Today's Feature Domme is the busty fetishist, Goddess Peach.  It was such a pleasure to interview her and I know you're going to enjoy her responses to my questions.  Bow down and prepare yourself to be overwhelmed by this breathtaking Goddess.  Welcome to DommeAddiction, Goddess Peach.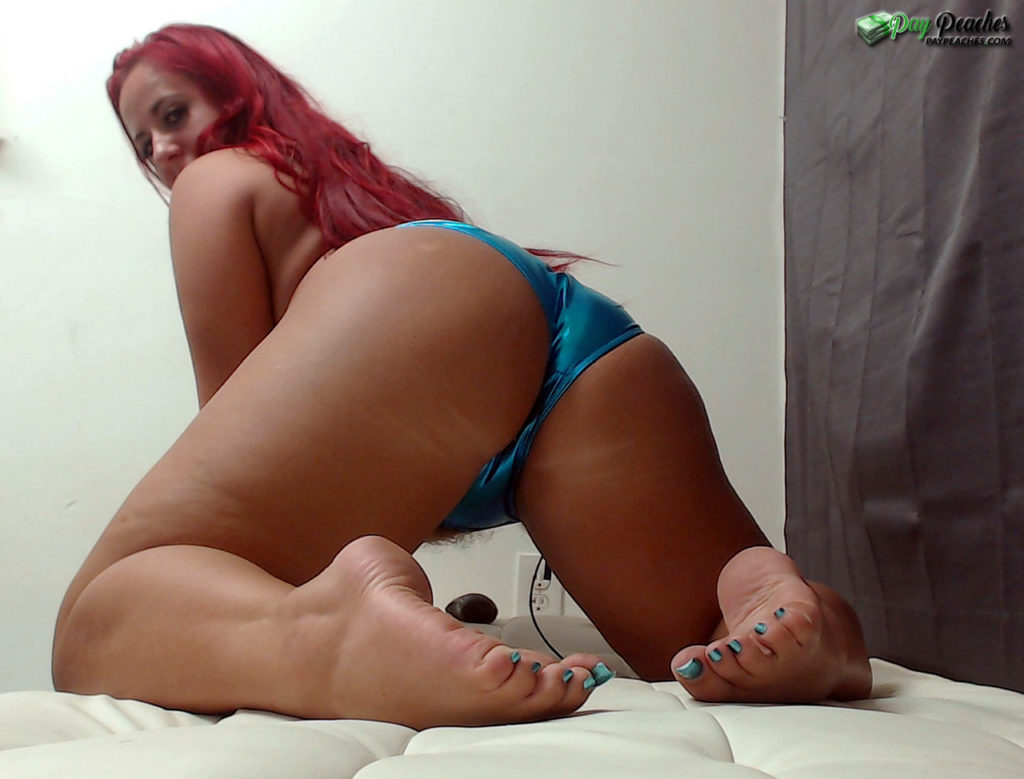 slaveboysmith: Joining me today is the beautiful Goddess Georgia Peach. Goddess, thank you for the privilege of interviewing you.
Goddess Peach: Hello this is Goddess Peach, nice to meet you.
sbs: You as well Goddess Peach. Let me begin by asking how you became the Femdom Goddess you are today.
GP: It was a slow evolution, learning what I like and what makes me happy. I've been online since I was 18, so now at 32, I know what I like and what makes me happy. I enjoy control. The power to use my brain and body to get what I want really turns me on and makes me happy. I used to dabble in JOI and SPH but it wasn't until a few years ago I really found that I enjoyed cuckolding and chastity.
sbs: Cuckolding and chastity. Is it safe to say that you are more a sensual style Domme than sadistic and cruel?
GP: Yes I am a sensual Domme.  I love using my body and mind to get what I want without having to ask.
sbs: That's a powerful thing, coercing a slave into giving up control because they want to, not through force. Are there other fetishes you love exploring with your slaves? Does it vary between online vs real time sessions?
GP: Yes I love it. I love Findom, I love pegging and forced bi especially in real time. I love exploiting all fetishes where I have the power.
sbs: I can't imagine a more intense situation of having all the power than having a man face down and burying a strapon inside him. Can you describe the feeling you have when you take him?
GP: Pure Power. Superiority. I love having all the power especially at the tip of my large strap on. When a man submits, it excites me and makes me happy.
sbs: Mmm I can imagine! Do you prefer a compliant, easy to train slave, or breaking in a pseudo-Alpha who needs to be shown his proper place?
GP: I prefer a sub already semi-trained.  I don't like dealing with men that think they are Alphas. All men should submit and be betas.
sbs: Agreed completely Goddess. When you have a slave completely under your control, is there a "tell" that lets you know that they are broken and willing to do whatever you desire?
GP: Yes they are locked in chastity and do whatever I command. I love it!
sbs: Is chastity something every slave of yours must accept?
GP: If they want to be my long term slave they come to terms with it.
sbs: Something for our readers to prepare themselves for, no doubt. Switching things up a little, if you were not a Dominatrix, what might you be doing instead?
GP: I'd be a bartender 🙂
sbs: Hmm I imagine the tips wouldn't be as rewarding as taking a slave and making him our owned pet.
GP: Not at all … I like a good quick rinse 🙂 lol
sbs: Indeed. Have you ever been recognized in public? If so, how did they react to seeing their Femdom Goddess?
GP: I don't ever get recognized…. I'd probably say drop to your feet and empty your wallet if I did.
sbs: I can just imagine the reaction of their wives 😉 Of course that might not stop them if they're truly devoted and overwhelmed in your presence.
GP: Exactly! They will forget about their wife.
sbs: I'm sure a few of our readers are doing that right now. Speaking of which, for those reading this feature, eager to worship and serve you, how can they best show their sincerity and desire to obey?
GP:  Visit my links and make me happy so I notice you. http://iWantPeaches.com and http://PayPeaches.com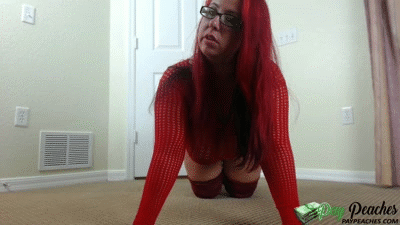 sbs: Anything else you wish to say to your fans, admirers and potential slaves, Goddess?
GP: Hope you're ready to serve and make me a happy Goddess.
sbs: I'm sure many are. Thank you so much for taking the time to answer my questions, Goddess. One final question, if I may. If we were conducting this interview in person, with me kneeling before you, how would it end?
GP: Making you kiss my feet and I just walk away.