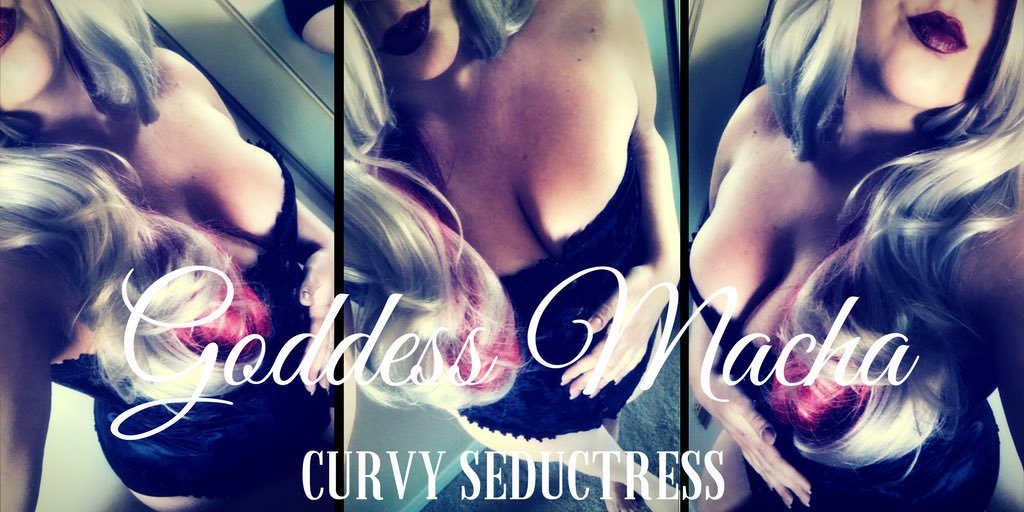 Today's feature Domme is the beautiful curvy nightmare come true, Goddess Macha.  Feel her weave her findom spell over you little by little as you push yourself farther and harder to please your new obsession.  Thank you Goddess Macha for allowing me to welcome you to DommeAddiction, and for allowing me to put this feature together for you.

slaveboysmith: For any who follow you, it is very evident you control men with ease. Has that always been the case?
Goddess Macha: Yes, this has always been the case. Many men have reached out to Me via Facebook to tell me how intimidated they were by Me in school. I've always been on the honour roll or a full academic scholarship so I have both the beauty & the brains which makes it incredibly easy to turn beta brains to mush. In University, my major was psychology so those natural skills have been fine-tuned with formal education and practice.
sbs: Are you naturally dominant in every aspect of your life, or is Femdom more a roleplay for you when interacting with slaves?
GM: Yes, in my vanilla career, I entered the field as a manager and have always been in a leadership role. I am "the boss" at work and at home. I grew up being told I was quite bossy by other children and adults. I think that is what makes me a natural Domme. It never feels forced to Me and as a result it brings Me quite a bit of joy interacting in a D/s relationship.
sbs: Not all women are created equally, obviously, and you are most definitely as Alpha as they come. What do you say to women who are jealous of your success, or bothered by the lifestyle you are afforded by your admiring slaves?
GM: While I do believe all women are superior to all men, I do also think every gender has betas and super betas. While only women can truly be an alpha, men can be both betas and super betas. Female betas are always superior to male betas. All betas should be serving an alpha Goddess, and I believe that jealousy is the natural order trying to take control. Those individuals would not feel jealous of My success if they were contributing to it by serving Me.
sbs: Is there a specific type of slave you find is drawn to you? Can all submissive men be persuaded to slip across that line into financial domination?
GM: In theory, yes. Because My fetish is money, they must be willing to satisfy that fetish if they want to serve Me. I attract men seeking a true female supremacist because they can see that I won't throw women under the bus just to make a quick buck. I don't see sissification as something shameful because being a woman is amazing. I only do homewrecking from the perspective of the woman deserving better, maybe even suggesting she try lesbianism over dating men. I attract slaves who truly want to be submissive and therefore better men than they currently are.
sbs: Do you prefer to break and enslave men who might resist, or use well-trained ones that are already broken in?
GM: Either one can be fun in its own way but I do have a "First Time Fetish" so I love having slaves who haven't done a specific task before. So even if the slave is well trained, if they have never done CBT or CEI I would find that exciting.
sbs: Beyond financial domination, which is an obvious favorite, do you have other specific fetishes you enjoy exploring with your slaves?
GM: My fantasy is a cashmeet that also includes ballbusting. I want a servant to lay at least $1000 at My feet, and then kiss My pointy heels before I kick them right in the balls, hard.
sbs: Can you describe the feeling you have when you have control of a slave, desperately doing whatever it takes to please you? Is it a rush, or just an expected outcome you've grown used to?
GM: It is a rush but it also becomes very expected. Still I do get wet anytime I receive a large three-digit tribute. Especially if they send without being asked or without delay when they are asked.
sbs: How can you tell when you've completely broken someone and they are unable to resist you? Is there a "tell" of some kind that lets you know you've taken total control?
GM: When their trigger words become all you need to say. From mind fuck, to corset, to cleavage, to good boy. I love knowing those one or two words that will have them unable to resist.
sbs: Have you ever been recognized in public? If so, how does the slave react to seeing his ultimate Goddess in person?
GM: No I have not but I think about this happening whenever I find something staring at Me for too long out in public. As a Canadian, I worry less since the clip site I use is based in the US but I'm in southern Ontario close to the US/Canada border, so it could happen.
sbs: For slaves looking to impress you, what is the best way for them to show you they are sincere in their desire to serve and spoil?
GM: Send at least $100 as your initial tribute. Send at least $500 a week, but consider that you are competing for My attention and you need to stand out from the crowd. Sending $1000 at one time is guaranteed to not only impress Me, but to also make Me cum on the spot. Send luxury gifts once or twice a month. Compliment Me often & never act selfishly.
sbs: Is there anything else you would like to tell your admiring worshipers reading this interview?
GM: Do not assume that you are worshiping Me unless you have, & continue to, send tribute. Worshiping from afar is not service & you are only fooling yourself if you think it is. Give in & submit to Me to discover the true joy that comes from serving a Femdom Goddess.
sbs: If you would oblige me one final question…if we were conducting this interview in person, how would it end?
GM: I'd finally let you get up off your knees, but only after I pet your head saying "good boy" and walking out of the room. You'd have been told by Me to not to stand up until the door closed behind Me and you were sure I was gone.