DommeAddiction presents the Divine, Petite & Dominating Goddess Lily.She promises to control your cock, mind & wallet effortlessly.
DommeAddiction: Would You please tell us the beginning of the story, when and how did You start as a Dominatrix?
Goddess Lily: I've been in the online Dominatrix scene for about 3 years now. I started it the moment I discovered that financial domination is an actual fetish. From that point on I felt so relieved that I could express My female power.  
DommeAddiction: At what age did You first realize the power You held over men?
Goddess Lily: Very young. They were "boys" at the time (I still consider some men "boys") but as a natural dominant I recall all these boys clinging to Me, craving My attention and fighting over Me. I found that amusing and used it to My advantage. One boy would try to gift me better than the other. Who got My attention? No doubt it was the boy who offered the most to Me. I had boys servicing Me in all ways, from chauffeuring to trying to do My classwork. I remember having one of these obsessed males drive 20 hours just to see Me for one hour. He took Me out to eat, shopping, and then I had to go to hang out with My girlfriends. Of course he was sad, but he did as I desired and drove back 20 hours to where he lived.  My power really progressed when I dated a few and experimented with men's weaknesses.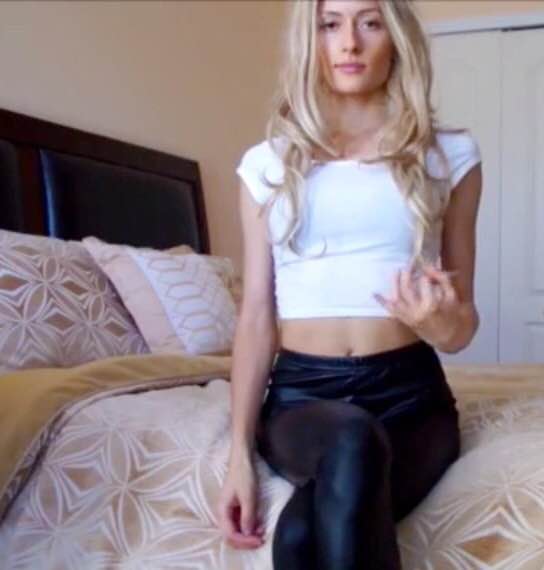 DommeAddiction: Are You naturally dominant, or it is just a role play for business?
Goddess Lily: I am naturally dominant and take an interesting approach to My domination skills. As I understand it, it is highly important to be unique in domination skills. There is not one way to domination, and surely that is what helps slaves know which Dominatrix to serve.  
DommeAddiction: Why are women superior and men end up being slaves?
Goddess Lily: It varies per individual. I can't speak for all the Women and all the men, but I can certainly speak from My experience. In My experience I noticed that men love to naturally submit — or should I say surrender? — to a gorgeous Woman. I believe that men naturally are meant to submit to Women, they just need to find the one suited to their submission needs. The men I've dealt with told me that they've gotten tired of taking on the society roles of being the "dominant" one. For example, CEOs and managers need submission in their lives. It relaxes them and relieves their stress to become enslaved to a beautiful dominant Woman. A lot of My slaves love to worship Me and even tell Me they love Me. I simply believe men are hardwired into pleasing Me.
DommeAddiction: What are Your favorite fetishes?
Goddess Lily: Worship (all kinds), Tease/Denial, Mind Control (Hypnosis), and financial domination.
DommeAddiction: Is there one type of clip You enjoy making more than all others?
Goddess Lily: I love filming, therefore I do not have one clip I enjoy over another. The creativity and the amount of kink I have is just amazing, which makes me enjoy filming any kind of fetish clip. If you've watched My clips you'll see with your own eyes that I naturally love teasing. I like to say it like this: you can't fake passion. How could you possibly fake passion? I am passionate when I film, which is the most important thing in My opinion — to enjoy Myself and have a good time when I am teasing you boys.
DommeAddiction: Would You see a slave in person or do You prefer online sessions only?
Goddess Lily: I am very conscious of My time. I highly value and emphasize time, therefore I am specific about real-time slaves. I am huge about loyalty, which means that I require an online slave to meet My exact needs and wants before ever getting to do real time.   
DommeAddiction: What type of tribute do You prefer from Your slaves to show they appreciate You and are sincere in their desire to serve You?
Goddess Lily: I prefer tributes to come from Venmo, Circle Pay, or Amazon & Giftrocket cards. Of course, the higher the tribute the more inclined I am to look favorably on that slave's servitude, as it becomes a fact that he has a strong desire to serve Me. However, I am genuine when it comes to a slave's salary. I have them properly budgeting according to their salary. A slave most definitely needs to show that he is filled with effort to contribute to My Goddess life.  
DommeAddiction: How does it make You feel to know You have control over cocks, minds and wallets?
Goddess Lily: It is a very sensual, powerful and natural feeling. I feel as if it is My natural state. It is like My divine right. To melt away a man's brain and turn him into a beneficial being for My advantage.
DommeAddiction: Do You prefer to break and enslave strong boys or use well-trained ones?
Goddess Lily: In my experience, "strong boys" have come to Me, giving into My desires. So without Me even having to "break" them, it is as if they did all the work for Me by finding Me and feeling inclined toward Me. This has been the case 100% of the time with what you are referring to as "strong boys". I believe I don't ever have to "break" a boy. It effortlessly and easily comes when you are a natural dominant female. So, not much of a preference but I do enjoy a true submissive male.
DommeAddiction: How can Submissive men buy Your worn items?
Goddess Lily: My official website: www.DivineGoddessLily.com OR they can become more assertive and send a payment to Me with a message that they would like My worn item. This speeds up the process and makes My life easier which really is what I deserve … more relaxation for Me!
DommeAddiction: What about custom clips ?
Goddess Lily: www.iwantclips.com/store/9429 &/or email me at Lilyahana@aol.com
DommeAddiction: In your Website, You offer a slave application. Would You please explain this to us?
Goddess Lily: A slave application will cause a slave to be officially owned by Me. It is a contract that defines what the slave must agree to become truly My slave. It lists and gives details about what I desire out of the slave and covers the rules that My slaves must follow. If a slave breaks a rule … well, I will just say that My slave contract goes over that 😉
DommeAddiction: What do You think about cum tax? Is it for owned slaves only or for everyone?
Goddess Lily: I believe the cum tax is a MUST for every male. It is the best form of permission that a male can receive. If one of My slaves has released himself without My permission, the cum tax is increased, and therefore My slave is/will continue to receive punishment until I believe he has learned from his mistake.
DommeAddiction: Is there anything else You would like to tell Your admiring worshipers, and future slaves, reading this interview?
Goddess Lily: Sink in, submit, serve, spoil and satisfy Me.
DommeAddiction: If we were conducting this interview in person, how would it end?
Perhaps You already know this answer? 😉
Goddess Lily: Surely, you want to be part of My domain. It could be said that I would have you kneeling throughout the whole interview. In addition, I'd also have you giving Me a nice foot massage because I love those! So, what would the end be like? You'd effortlessly feel inclined to contribute to My lifestyle, meaning that you'd want to gift me, hand over your credit card, or even better … your cash. Likewise, you'd probably do all of the above. 😉
Get Connected with Goddess Lily:
@lily_goddess on Twitter
Official Website of the Divine Goddess Lily