Since wrapping this interview with the one and only Goddess Crystal Knight, I've been trying to figure out what I could possibly write to introduce her that would do justice to the Femdom force of nature that she is.  Quite simply, she may be the most erotic and sensual woman you will ever know! How's that for an opening statement? From her Femdom tease clips to her cam sessions and interactions with males everywhere, Goddess Crystal proves that when men are aroused enough, there is virtually nothing they won't do to please her.  She is beautiful (obviously) and her body is sculpted perfection (I know you're not reading this because you can't take your eyes off her breasts, right?) and her sensual voice and alluring style will have you willing to do anything she asks.  This is true power.  No force, no punishment, simply building lustful desire to the point that the very thought of disappointing your Countess is unacceptable.  Men WANT to give her more, to do more to please her and sacrifice everything to make her life amazing.  I have been a devoted follower, slipping down that rabbit hole of addiction, from the first clip of hers I purchased.  When Goddess Crystal agreed to this feature, I felt as though I had won the lottery.  This stunning, seductive Temptress answering my questions in an interview? How could it get any hotter than that? What follows is an interview that was sheer bliss to conduct and put together.  Every aspect of Goddess Crystal is Elite, from her beauty and sensuality to her interactions with adoring men like myself.  She is truly an exceptional woman that you have to experience to understand.  Enjoy this dip into her world, if you aren't already a member of the Crystal Army, and know that it will be almost instantaneous addiction. Enjoy the ride…it's a steep slide into the abyss, but the view is spectacular!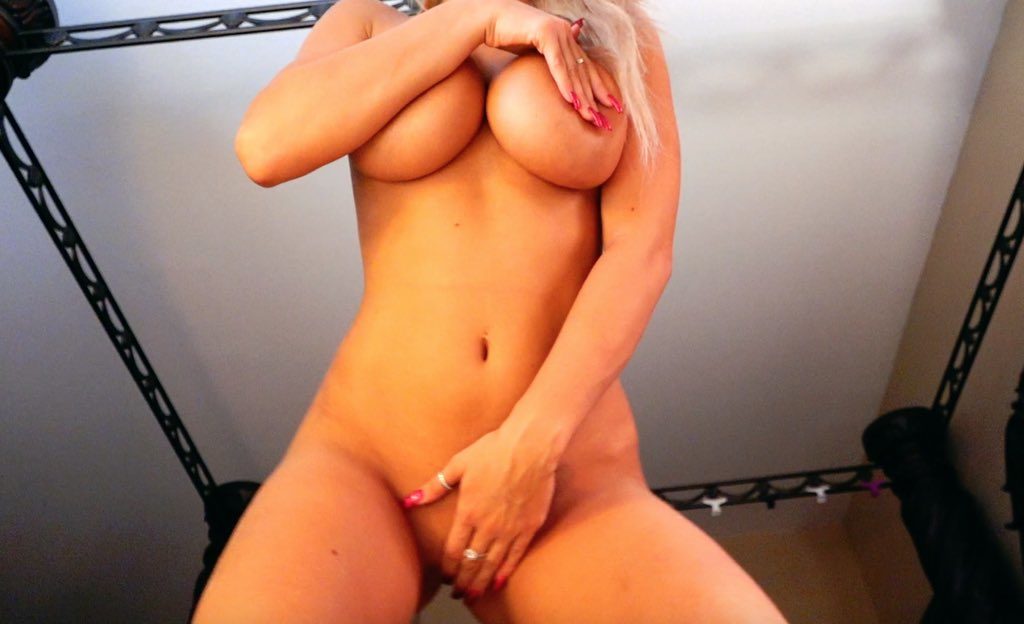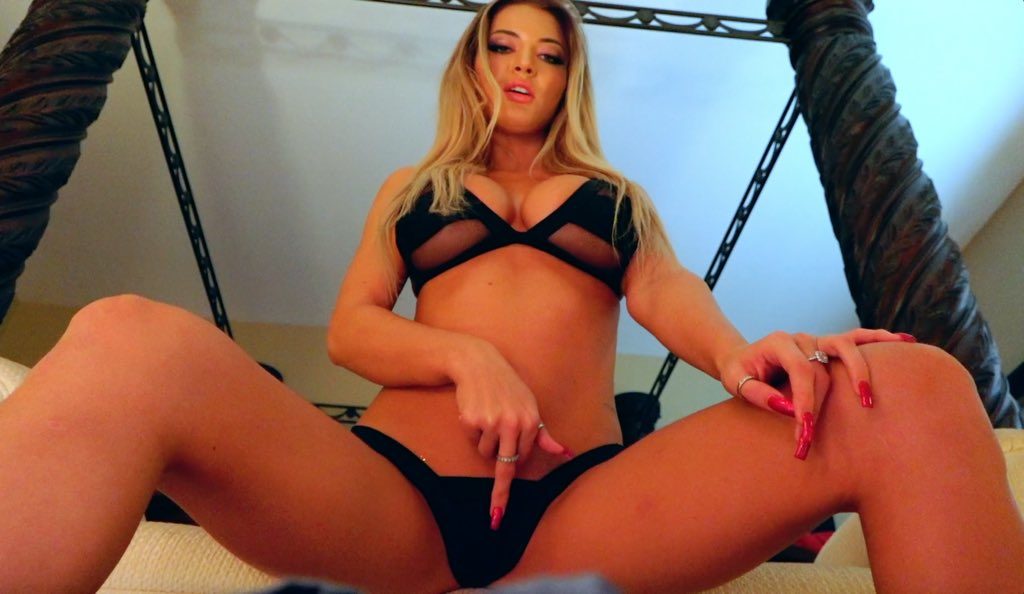 slaveboysmith: Joining me today is the legendary Goddess Crystal Knight. Goddess, thank you for allowing me the privilege of interviewing you today. We at DommeAddiction absolutely LOVE your work!
Goddess Crystal Knight: Hi! You are so very welcome! I love the support you guys have always shown me, DommeAddiction is amazing! And your welcome to feature as much of my content as you'd like 😉  I love giving new possible slaves little teasers, you know 😉
sbs: We are more than happy to continue promoting and sharing your amazing content with our readers, Goddess Crystal. Your sensual and teasing style of Femdom proves time and again that a woman need not use force to make men do exactly what she wants. When did you first realize this power you have over men?
GCK: Since day one hah! I used to joke with my guy friends that once you get to know me you'll always fall in love with me and what do you know, I have no guy friends anymore because they all fell for me! Haha I knew I had a mind-fucking flirtatious way with boys that could make them do anything I wanted from a VERY young age. I loved it. So once I turned 18 I found TeaseUm and became a model as well as a cam model for them! I would cam for 10-12 hours a day and would spend most of my time doing sessions with submissive men more than the common "vanilla" cam sessions. Once I realized that what I love to do could make me an empire of submissives and a shit ton of money…I was hooked! Then, I began making and selling clips and here I am now… living the life, 870+ clips, and Crystal Army…lol paradise 🙂
sbs: I am more than a little familiar with what it feels like to join the Crystal Army, Goddess. You had me hooked with the very first clip I watched and reviewed. Your sensual style is absolutely erotic. Please tell us a little about your ideal slave, and what fetishes are your favourites if you don't mind.
GCK: Aww you're so sweet, I could tell you have fed the addiction before and I look forward to making you do it even more 😉  Gosh I wish I could say I have one specific ideal slave but there are so many that do so much for me, I couldn't even begin to choose. I love my task slaves, their weekly tributes ALWAYS, who check in every day on kik and own over 800+ clips. Those are the boys, and they all know who they are, that really make every day so interesting and pleasing, I love it! My slaves are VERY devoted to myself and only me so I would say that 99.9% of Crystal Army are ideal slaves. Many of my favorite fetishes are Findom, sensual domination, anal & chastity training, mesmerization, tit worship, body worship, team-viewer, and humiliation (every form) 😉 FemDom is my fetish and I truly haven't come across a session I haven't enjoyed 🙂
sbs: I think it's safe to say that any man fortunate enough to experience a session with you has never been disappointed either, Goddess. You obviously turn heads anywhere you go, leaving men drooling, and girlfriends and wives jealous as hell, I'm sure. Does it become routine for you that men will surrender to you, or is there still a rush when you break down a man's will and bring him to his knees?
GCK: Heh good question! I love every minute of making a man surrender to me. The moment a new slave kneels for the first time and becomes part of Crystal Army, I get a rush of pure dominant energy through my body. It truly fuels my fire and makes me want to go further and mentally mind fuck them deeper! I can't help it, my soul craves world domination. I was born for this 🙂
sbs: It's easy to imagine you dominating an entire world of slaves, Goddess. Wait, it's already happening! You've broken so many slaves, I have to ask, how can you tell when you've completely broken someone and they are unable to resist you? Is there a "tell" of some kind that lets you know you've taken total control?
GCK: They give the sign themselves lol. They begin obsessing like you wouldn't believe! I always say "put your name in my brain (through purchases & tributes) or I will never remember you!" They begin begging for my attention by buying EVERYTHING. My Skype ID, my snap chat and my kik id (in one purchase usually)….Once they do their first binge, they send me messages almost hourly on my purchased kik. It's "the give away" every time. It changes from messages of admiration to true obsession. My slaves are like little puppies waiting for me, and every day there with easily 100+ messages. I almost never get off my kik, so if you tell me you're addicted and you don't have it, I know you're mine but not like my top of lines! All my most devoted slaves have made a kik just so I can keep tabs on them 24/7 🙂  
sbs: The idea of having you keep tabs on them 24/7 must be intoxicating for them, Goddess. Let me ask you, for slaves reading this, who have net yet surrendered to you, how can they best show their willingness to join the Crystal Army and devote themselves entirely to pleasing you?
GCK: 1st. Buy my Slave application on http://iwantcrystal.com  & fill it out 2. Purchase my kik ID and send it in to me 3. Once I read over what your kinks, fetishes, etc. are, I will explain to you exactly how I can make your ultimate fantasies reality. Ex. Cam sessions, cash meets, complete life takeovers, contracts, etc.
sbs: All of that sounds so enticing Goddess. Is there anything else you'd like to share with your admiring worshipers who are reading this?
GCK: Whatever fantasy you have, I can create it and make it even better in reality then you have ever dreamed 😉 There is no limit when it comes to me, I can make you addicted no matter what kink it may be.
sbs: I will confess that you are one of the most addictive women I have ever come across, Goddess Crystal. Your clips are sensual and alluring, and your beauty simply overwhelms. With that confession of how much I adore you in mind, if we were conducting this interview in person, with me kneeling before you as I asked the questions, how would it end?
GCK: Aww you're so sweet and submissive haha! I love hearing how much you adore worshiping me! If you were here and kneeling before me asking these questions…I would walk around the entire time during this interview in my big strap on, I would sit upon my throne and make you kiss these gorgeous boots to say thank you for my valuable time. I would tell you that once this is finished, you must finish, not only to become addicted for the rest of your life but so you can run around the world telling people of the best orgasm you ever have had or will have! Oh, and I hate messes so you would have to clean up your own 😉