For today's feature interview, I'm trying something I haven't done before.  I had the distinct pleasure, and torment, of joining Goddess Amy Wynters via Skype audio and hearing her sensually alluring accented voice.  Goddess Amy's voice is so seductive, I felt it only fair to share it with you, the readers.  So in that spirit, I've kept Goddess Amy's responses to my questions as audio files.  Simply click on "Goddess Amy" after each question and sit back and hear her intelligent, erotic and teasing responses.  You can thank me later by spoiling Goddess Amy.  She did all the work, trust me.  All I did was try not to lose it in the middle of interviewing her 😉 I'll let you judge for yourself how I held up!
slaveboysmith: Joining me today is the very beautiful and sensual Goddess Amy Wynters.  Goddess, thank you for taking the time to speak to our viewers at DommeAddiction.
sbs: Well it's very much my pleasure to be in your presence.  As instructed, I am on my knees and ready to conduct the feature Goddess.

sbs: So my first question is something I ask of each Domme that I interview because everyone's story on how they became the Goddess they now are is a little different.  Tracing your pathway to becoming a Femdom Goddess who has slaves and an online profile, what can you tell us about how you arrived at where you are today?

sbs: Well you certainly have made an impression on us slaves, Goddess.  You mentioned your exquisitely beautiful feet, something this slaveboy has most definitely noticed.  Your clipstore and Twitter feed cater a lot to your perfect feet.  Safe to say you enjoy having a slave on his knees worshiping at your feet?

sbs: Now you mentioned the power over a slave.  Can you describe what it feels like to wield that kind of control…to have a slave willing to do whatever it takes to please you? Is it a rush, or something you've grown accustomed to Goddess?
sbs: Very true Goddess…it's almost as if you're watching me! So aside from me, is there a particular type of slave that you enjoy and is drawn to you? And once you have a slave in your sights, is it easy to take them from adoring foot worshiper and such, to a point where they are financially serving your every desire?
sbs: I think your response was perfect, but then again, I may be biased given that you have me kneeling and eager to please as you answer.  We spoke before we began this interview about an upcoming clip you have in the works around a Poison Ivy theme.  What can you tell us about being a sexy Super Villainess?
sbs: I will definitely have to keep a sharp eye out for that clip! Have you ever been recognized in public, and if so, what's the reaction like from the slave that sees you?
sbs: So no public shows of affection where they drop to their knees and worship your feet?
sbs: Their wives may not think too highly of it though.
sbs:Very true.  Do you have many married slaves sneaking away from their wives, as I am today, to be in your presence Goddess?

sbs: Is it a thrill knowing that a married man will betray his wife out of desire to be with you?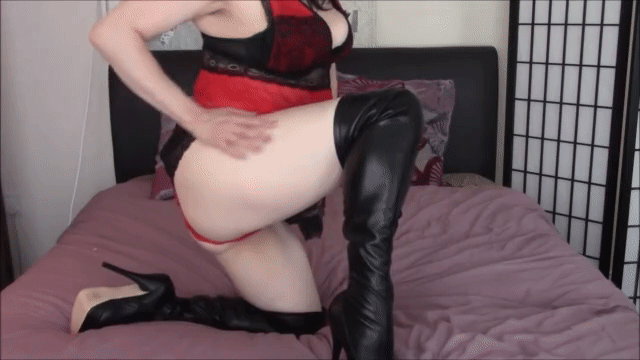 sbs: Any wives listening in on this feature are now very terrified! Lol We spoke earlier about how Findom isn't your primary interest, but clearly any Goddess loves to be spoiled.  For slaves looking to show they are genuine and willing to do what it takes to please you, how can they best show you their commitment?
sbs: If you ever need testimony to confirm your status as a Seductress, please feel free to call me as a witness! I've taken many a cold shower as we've messaged to arrange this interview.
sbs: Oh I think I know you well enough to know you understand exactly what you're doing and the devastating effect it has on us men, Goddess.  When we spoke in DM's some time ago, you mentioned that you love doing phone Domme sessions.  Can you tell our readers a little about what a session by phone with you would be like?
sbs: Giving orgasms a purpose…I like that as a slogan! I have to admit that while I consider myself open-minded, toilet fetishes are something I truly don't get.
sbs: Well that is certainly an impressive checklist of fetishes for slaves to dream over as they think about serving you Goddess.
sbs: Definitely.  It does need to be a two-way street for a session to allow a slave and Goddess to connect.
sbs: Right…I agree completely.  Okay well thank you again for taking time to join us here at DommeAddiction.  I'm almost afraid to ask my final question, but nevertheless, here we go: If we were conducting this interview in person, with me on my knees before you, how would it end Goddess?
Links to Goddess Amy Wynters: