She is a self-proclaimed feisty redheaded nympho with an insatiable appetite for sex! Today's Feature Domme is the gorgeous and talented Empress Lauren Phillips.  You are, no doubt, familiar with her mainstream adult work, but this stunning redhead vixen is turning her attention to the world of Femdom, and slaves out there be warned, you're going to be in deep when you kneel before this long-legged Temptress! She is as devious as she is delicious and we men don't stand a chance.  Read all about how Empress Lauren has journeyed to where she is today and what she has in store for you.  Trust me, you don't want to miss this introduction.  And later, when you are on your knees, penniless after being drained yet again by the irresistibly sexy Domme standing over you, remember reading about her starting out and your curiosity about the seductive and beautiful Empress Lauren Phillips. This is where your addiction begins!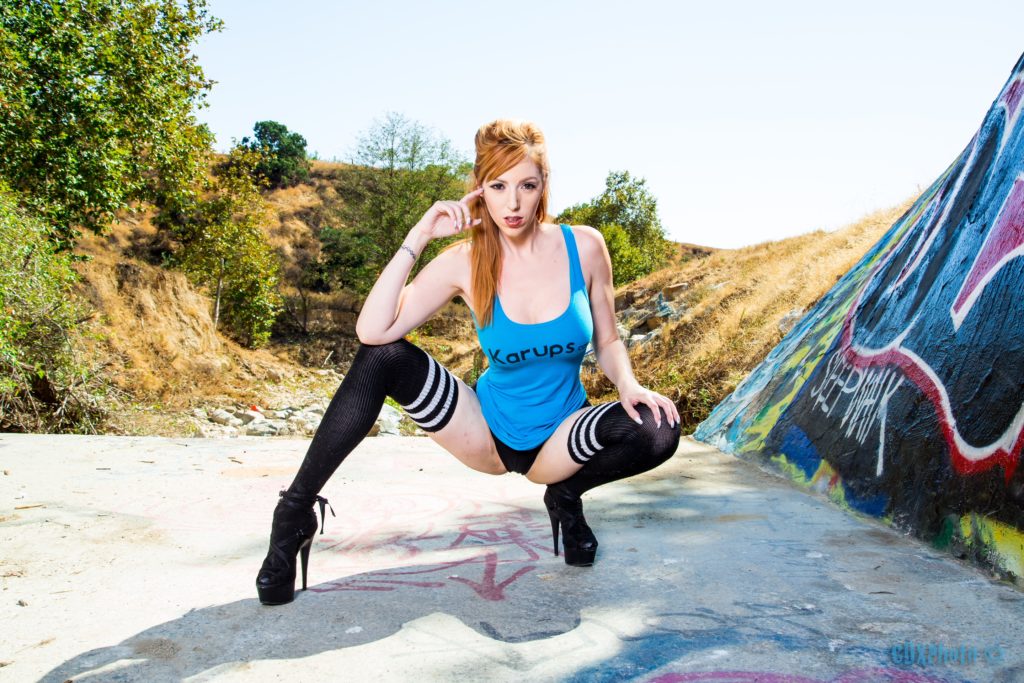 slaveboysmith: Today, at DommeAddiction, I have the distinct privilege of interviewing a star in the adult film business, the legendary Lauren Phillips.  Thank you so much for joining me today.  As this is a Femdom based site, would it be appropriate for me to address you as Goddess?
Empress Phillips: Thank you so much for the introduction. I preferred to be called Empress or Miss Phillips.
sbs: Of course…Empress does have a very nice ring to it.  You have been involved in adult film work for some time now, and have been in many photo shoots and videos in a variety of scenarios.  What can you tell our readers about your experiences in female domination, be it as a submissive or a Domme?
EP: Well, I started out as a submissive. I've done several Kink.com scenes and have recently just shot a semi- Domme scene for them. Most of my kinky fetish experiences have started out as submissive but then soon turned into domination. I am currently getting into the world of Findom and Femdom through my new iWantClips store. I'm extremely excited to see what this world has to offer!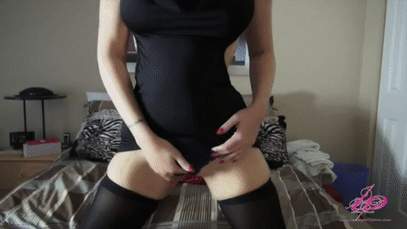 sbs: And we are extremely excited to see you immerse yourself in that world! As a submissive, do you prefer to submit to another woman, or a male Dom?
EP: I actually have no preference. When I'm submissive, it's more about the fetish that's being performed than the person I'm submitting to.
sbs: As you know, Lady Fyre and her husband Laz are prominently featured here on DommeAddiction, and with good reason. You did a shoot with them some time back. What can you tell our readers about working with the ultimate Alpha couple?
EP: Working with Mr. and Lady Fyre was amazing! I was still getting into the scene of shooting for clip store scenes. They were completely professional and so easy to work with. I hope I get to work with them again, because their work is very intriguing, especially with the different themes and niches they shoot about.
sbs: Are the types of fetishes you enjoy exploring different from a submissive perspective than when you are in the role of Domme? What type of fetishes are your favourites?
EP: As a Domme, I actually lean towards the fetishes that I like as a submissive. I think this happens because I know what I like about it and I like to see you other people enjoy what I like. But I am totally excited and can't wait to explore and learn more of the techniques side of being a female dominatrix. My favorite types of fetishes are degrading, humiliation, cuckolding, JOI, and more. I'm learning more as I go along. I am extremely intrigued with financial domination as well. That looks like it will be the first thing I'm going to explore.
sbs: One look at you and it's easy to imagine men melting away any resistance and handing over whatever you demand of them.  Your background is in dance, and your legs are very obviously magnificent.  When men are easily overwhelmed by your beauty, is it still a rush, or has it become expected?
EP: Everything is always a rush still. I think about every individual differently. So learning how to mesmerize people with my beauty is always a pleasure of mine no matter what the circumstances are.
sbs: Can you describe the feeling you have when you think of men falling to their knees, bowing before you, and obeying your every command? Will you pursue these experiences real time as well as online as you evolve as a Femdom Goddess?
EP: When I overpower a man and he gets on his knees to worship me, the feeling is so empowering. It's like being a God and being the only thing in this person's world. Just imagine having a person that literally melts your world, it's kind of like your world is surrounded by them. So when you guys get that way for me, it's like the happiest place to be for me. I will be getting to real-time sessions soon. I actually have a mentor that is going to help me in that area as well.
sbs: That sounds wonderful.  Would this mentor appreciate being mentioned in this feature? Is it someone our readers are likely to know?
EP: I think so. I always like to give credit to people that are so knowledgeable and are my close friends. I have recently talked to Princess Donna who has been in the female domination scene for several years especially when she was a part of public disgrace on Kink.com. So I am super excited for her knowledge and to get to work with her.
sbs: I'm sure you will be a very natural fit as a Femdom, Empress.  Men will fall, no doubt.  Can you share a little bit of your experiences in the world of adult entertainment leading up to where you are today? What has shaped you into the woman you are today?
EP: I have to thank the adult industry for opening new doors in my life especially in the fetish scene. If I hadn't started in the adult industry, I probably wouldn't have found this fetish or it would have taken me longer to explore my sexuality. So I owe all my experiences, and the experience of finding out what I like as a person sexually, to the adult industry. The building of my career has been planned though. I planned to start out as a camgirl and build my name. I thought it was the best way to build my brand in this industry. It was planned when I was going to come to LA and start working here. So now I'm at a point of planning the outline for getting into female domination and financial domination as well. I feel like the experiences I've had in life have shaped me to be the woman I am today. The past, the present and the future that may become is what helps me be who I want to be and represent what I want to represent.
sbs: I believe I speak for many when I say, we're very glad you have become the sensational woman you are today.  You're very obviously a strikingly beautiful woman, and you're very well known.  Have you ever come across an admirer in public and if so, how do they react to seeing you in person?
EP: I have ran into several admirers in public and usually they're very nice. They're usually kind of shocked to see me. Most the time they asked if they can get a picture with me. It's really sweet and I always love being noticed in public.
sbs: I wonder what your submissives will react like when they encounter you after you come fully into reality as a Female Dominant.  You may have men falling to their knees and begging to kiss your feet in public 🙂
EP: If that happens, I will love every minute of it with huge smile on my face.
sbs: Even if they leave their wife or girlfriend standing their in shock as they worship you? lol
EP: Definitely! Every minute.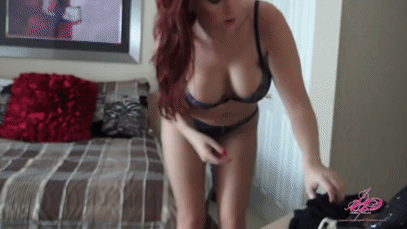 sbs: Hmm very naughty girl! I knew I liked you.  And speaking of which, I'm certain that many more of us will be begging you to enslave them and to bow at your feet.  For those reading this, excited at the prospect of becoming yours, what is the best way for them to show their sincere desire to please you?
EP: The best way for them to show their desire for me, would be to buy my clips, apply to be my sub, and offering all their money to me. I think that's pretty simple.
sbs: Simple and reasonable.  And very enticing.  Thank you so much for allowing me to interview you today Empress.  With your permission, may I please ask one final question?
EP: Sure 🙂
sbs: Suppose we were conducting this interview in person, with me kneeling before you.  If you deemed me worthy of a session with you, how might this interview end and what would be in store for me?
EP: This interview ends with you giving me money and me planning on how I can torture you, mindfuck you and humiliate you to the point of worthlessness 😉

Snapchat – laurenfillsup