Every time you've sat down at work, or home, you've been reminded of what Mistress Sydney did to you with her strapon.  You can still feel that dull ache deep inside from having her stretch you out with her thick rubber dick.  And though it still hurts, your cock throbs at the very thought of submitting to her strapon.  Nothing you've ever done as a submissive has ever felt so real as reaching back and spreading your ass cheeks while the most beautiful Asian Goddess of your fantasies plunged her thick dick deep inside you.  You've never felt more vulnerable or taken as in the presence of Mistress Sydney and her cock.
Look up as she sits there toying with her riding crop.  She's magnificently beautiful.  Dressed in black leather, you tremble as she tells you she wants a much bigger dildo this time for your anal training.  She wants to make you gape.  She wants to break that asshole of yours wide open.  Beg to see her dick.  Kneel down and prepare yourself for what she has in mind.
Oh my god! It's massive! Ribbed and thick, this dildo is at least an inch thicker, twice as long, and far more rigid than your last one.  You're terrified, yet still aroused.  You know that once she buries that dick in your butthole, you'll find yourself begging Mistress Sydney to pound you.  You can't say no to your Goddess.  She's far too beautiful.  You'll do everything to please her.  Take that massive cock into your asshole like a slut.  That's what devotion feels like slave. 
Happy Halloween bitch! Mistress Sydney loves this time of year and the idea of plundering a slave's ass until it gapes makes her so excited.  Her cock is beautiful and you want it so badly.  Her cock has your full attention.  Start by swallowing every inch of Mistress Sydney's huge cock into your throat.  Learn not to gag and make sure you get it nice and wet.  You do want it lubed don't you slaveboy? Get it really fucking wet, bitch.  Show your Goddess you can obey and are a well-trained little slut.  You'd do anything to please her.  Turn around and get ready to have your ass taken again.  Compared to your first training session, this dildo will make you feel like an anal virgin all over again.  You'll dream about her taking your slutty hole tonight when you're home.  You'll never forget how good it feels to submit to Mistress Sydney Max Lee.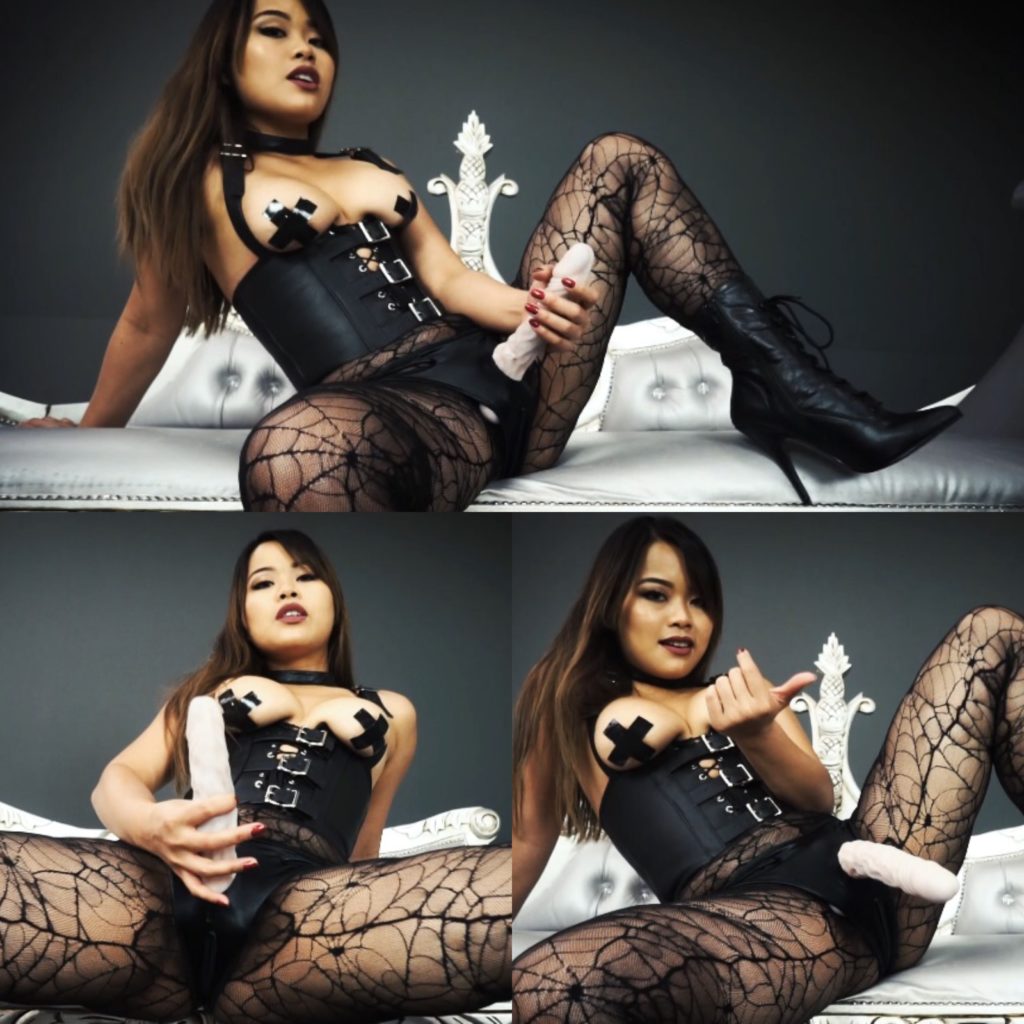 Clip Name: Thirsty For My Cock

Date Reviewed: January 11th, 2017

Cost of the clip: $14.99