The holidays are a season of giving, and as you sit through yet another lame Christmas party your boring wife insists on throwing, you can't imagine anything less exciting.  But as you make your way to a private room to simply get away from the tedium, leaving your wife to do the hosting, you hear a voice behind you.  Dressed in sexy shiny stockings, a skintight black shiny dress, and impossibly high heels, Taylor is unlike any of the other people at this party.  You literally gasp at how beautiful she is and as she begins teasing you with her perfect breasts, you begin to lose control.  This party just got one helluva lot more interesting, and as Taylor tells you she loves boys to be bad for her, you begin to imagine it being very difficult to say no to this perfect Seductress.  You've never met her before, and you're quite certain your wife wouldn't have invited someone so obviously superior, so you ask who she is and how she came to be in your house.  Seductively, she explains that she loves to tempt men like you into cheating on their wives.  She noticed you looked bored and decided she'd make her move.  No man is unbreakable, she says teasingly as she traces her dark nails across her breasts and gives them a squeeze.  You know you're in trouble, but you also know that this captivating Goddess is everything you have ever dreamed of.  And as she suggests you take a hit of poppers to loosen you up, you only hesitate briefly before obeying.  The rush is instant and the feeling is like nothing you've ever experienced.  She glides toward you, letting you catch the scent of her perfume and sense her desire. "You want me" she whispers in your ear as she glides her hand along the bulge in your pants.  Everyone breaks, she says with a wicked smile.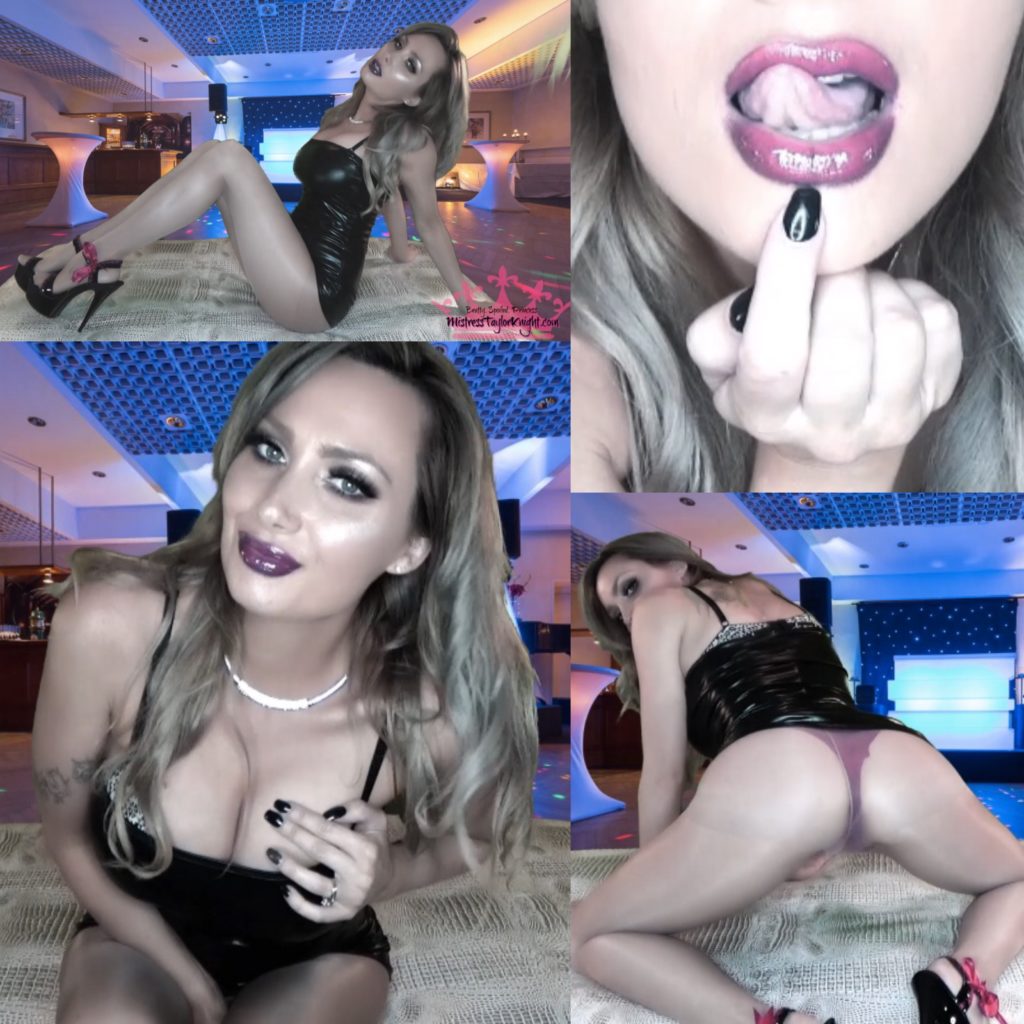 Walking across the room, the outline of her amazing ass in that tight dress making you groan, Taylor spots a balloon that must have somehow drifted into the room when you entered.  Sliding her dress up, she straddles it while looking back and asking if you'd like her to do this to your face? "Yes", you moan eagerly, but she warns you that her thighs are very powerful and as if for emphasis, she pops the balloon loudly.  Your heart races, wondering if your wife will have heard the balloon and come rushing in.  How could you possibly explain this Goddess with her dress up around her waist, alone with you? And with the poppers in full effect, could you even deny that you haven't been cheating? At this point, your cock is raging against your pants and Taylor slips a hand down between you as she looks deeply into your eyes and unzips you.  "I want you to stroke for me" she tells you and steps back to lick her glossy lips and squeeze her amazing breasts.  You take your throbbing cock out and do as she tells you.  But wicked Taylor has one condition if you want to cum for her.  You're going to do it all over her perfect tits, and then introduce her to wifey with your cum in plain view.  Each holiday season, this naughty Temptress chooses one marriage to ruin.  She lures men into compromising their vows and then forces them to reveal their transgressions to their shocked wife.  It's too late for you.  You're already so aroused and mindfucked by her beauty and the poppers that you'd do anything to please this perfect blonde Goddess.  Stroke it faster and pump that hot load all over those breasts that are the most perfectly beautiful natural breasts you've ever seen.  And as you groan and tremble with each spurt, look at the deliciously wicked smile on that beautiful face.  Another holiday victim.  Another man lured into her honeytrap and another marriage destroyed.  That's a good boy.  Pump out that full load and leave no doubt on those perfect tits of what you've done when you and your new friend go visit wifey.  It's too easy for a Goddess like Taylor to prey upon weak men like you.  But don't worry, little pet, now that your wife won't be an issue, you'll be able to focus completely on pleasing your new Goddess.  And Taylor has big plans for her newest cheating husband in the New Year!

Clip Name: The Holiday Homewrecker!

Date Reviewed: December 30th, 2017

Cost of the clip: $19.99