It's not gay if it's just a strapon, right? And if you're sucking it to please your beautiful Mistress Olivia then it's just about pleasing her, isn't it? But what if while you're swallowing that huge strapon and worshiping her cock, Mistress tells you she notices how eager and excited you are while pleasuring that dick, and she wants you to move on to something real? Despite your throbbing cock, you hesitate at the thought of shattering this boundary.  How easily will your redheaded Temptress seduce you into doing what deep down you know you want to do? How much resistance will you put up as she is joined by her stud and his massive throbbing cock? She wants you to suck his cock, and Mistress Olivia always gets what she wants.  Besides, it's obvious from the way you can't take your eyes off that beautiful cock of his that you want to suck it.  Look into her beautiful eyes as you suck the tip and taste the difference between plastic and the real thing.  Once you've tasted real cock, a strapon will never satisfy you again.  Suck him deeper, taking every inch of that huge, thick cock into your throat.  You'll do anything to please your Mistress, but deep down, you love the way that cock tastes and feels as you suck it.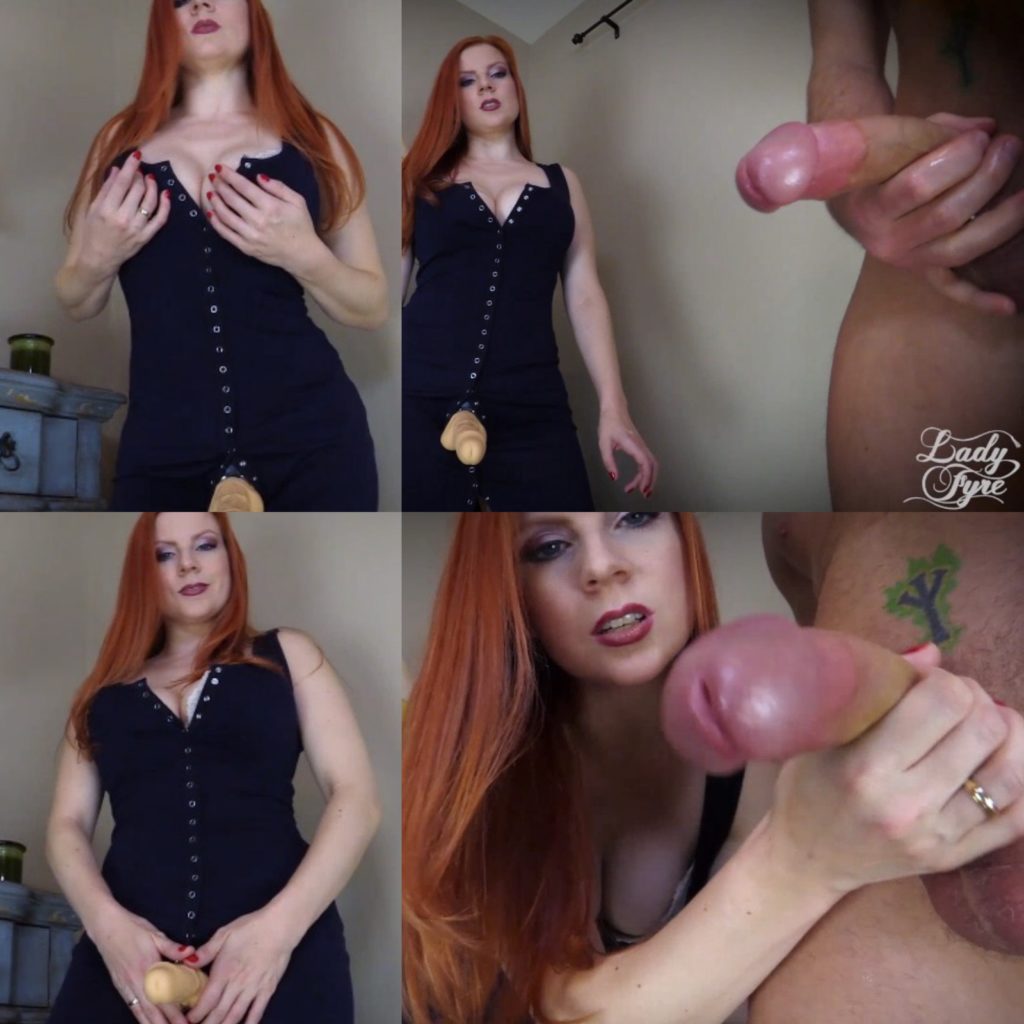 Feel his cock respond to your mouth as you suck it harder and deeper.  Show your Mistress what a good little faggot you are.  Are you surprised? There you are throbbing as you swallow that gorgeous cock hungrily.  You know you're a cocksucker and you've been working your way up to the real thing.  Don't fight it.  Enjoy tasting that perfect cock in your mouth.  You love the taste as precum oozes onto your tongue.  Suck those balls and go full-fledged faggot for your Mistress.  It's what you are and you cannot deny how much you love his cock.  Lick those balls while she strokes the shaft, and as she flaps his cock onto your face, your response encourages her to slap your face more and more with it.  Such a little faggot.  You've graduated from a lifeless strapon to that big manly Alpha cock, and to celebrate you're going to finish him off with your dick-sucking lips.  Wrap them around his hard cock and suck him until he explodes in your little faggot mouth.  Now that you've gotten a taste of his cock, it's not just about pleasing your Mistress.  No, little slaveboy, you want to please that Alpha stud standing over you pumping your mouth with his huge dick.  Take his huge load in your mouth like a good little faggot.  Show Mistress what you've learned about yourself today.  From strapon sucker to real Alpha cock lover…such a good little slut you are!

I know I'm not alone in never being able to get enough of Lady and Mr. Fyre and their incredibly erotic forced bi clips.  Mistress is such a persuasive and beautiful tease, and Laz's cock is remarkable! So how badly do you want more of his massive cock? You know where to find this Alpha couple and be used as their little faggot toy. 
Clip Name: Super Faggot: The Forced Awaken

Date Reviewed: August 25th, 2017

Cost of the clip: $11.99