Sitting on her throne looking breathtaking in all black, Mistress Lynn knows you're in love with her and ache to jerk that cock of yours as you gaze upon her perfect beauty.  From the heels of her sexy boots, to her gorgeous face, and everything in between, she is built to tempt, seduce and control.  The concept of self-control is something that evaporates in the presence of a woman as sensual and dominant as Mistress Lynn. You've tried desperately to control your addiction, but one glimpse of Mistress rubbing her pussy and calling you a jerk off loser and your hand instantly goes to your throbbing dick.  This addiction is out of control and no amount of therapy will be enough.  She is cruel, addictive and alt0gether irresistible.  Pleasing Mistress Lynn and pumping your cock is an all-consuming desire that will dominate your life.  Don't fight it.  Drip that precum and stroke for Mistress Lynn.  No treatment can help you…you're a stroke addict, and you always will be.

Licking her lips as she humiliates you for your inability to resist, Mistress Lynn takes total control of you.  Did you really think that therapy would be any match for this addiction, loser? Let Mistress be your doctor and obey her wishes.  You see, beating your addiction isn't what Mistress Lynn wants at all.  No, slave…as long as you're addicted to jerking your dick to her, you're easy to control, manipulate and own.  The instant she gets you hard and stroking, you will do everything she commands of you without question.  The moment you laid eyes upon your beautiful Mistress, your life spiraled out of control.  You buy her clips, you serve her, you obey her every wish, and above all, you stroke.  Day in and day out, you jerk your cock raw as you worship the ultimate Seductress.  She tempts and persuades mercilessly about how good it feels to stroke and cum for your Mistress.  It feels so good, but each time you cum, the pleasure subsides, and the guilt and shame wash over you as Mistress Lynn laughs at how pathetic you are for her.  That's a good bitch…another worship puddle for your Mistress.  You'll never recover from this addiction…and that's exactly what Mistress Lynn wants.

As beautiful and sensual as Mistress Lynn is, it's not hard to imagine slaves everywhere becoming addicted to her.  Her voice is teasing and seductive, but with an edge of humiliation that leaves you throbbing for her.  Every clip of hers I've purchased has been amazing and this one is so sexy.  You'll watch it again and again…did you really hope to resist or were you kidding yourself into thinking you might actually have some will power?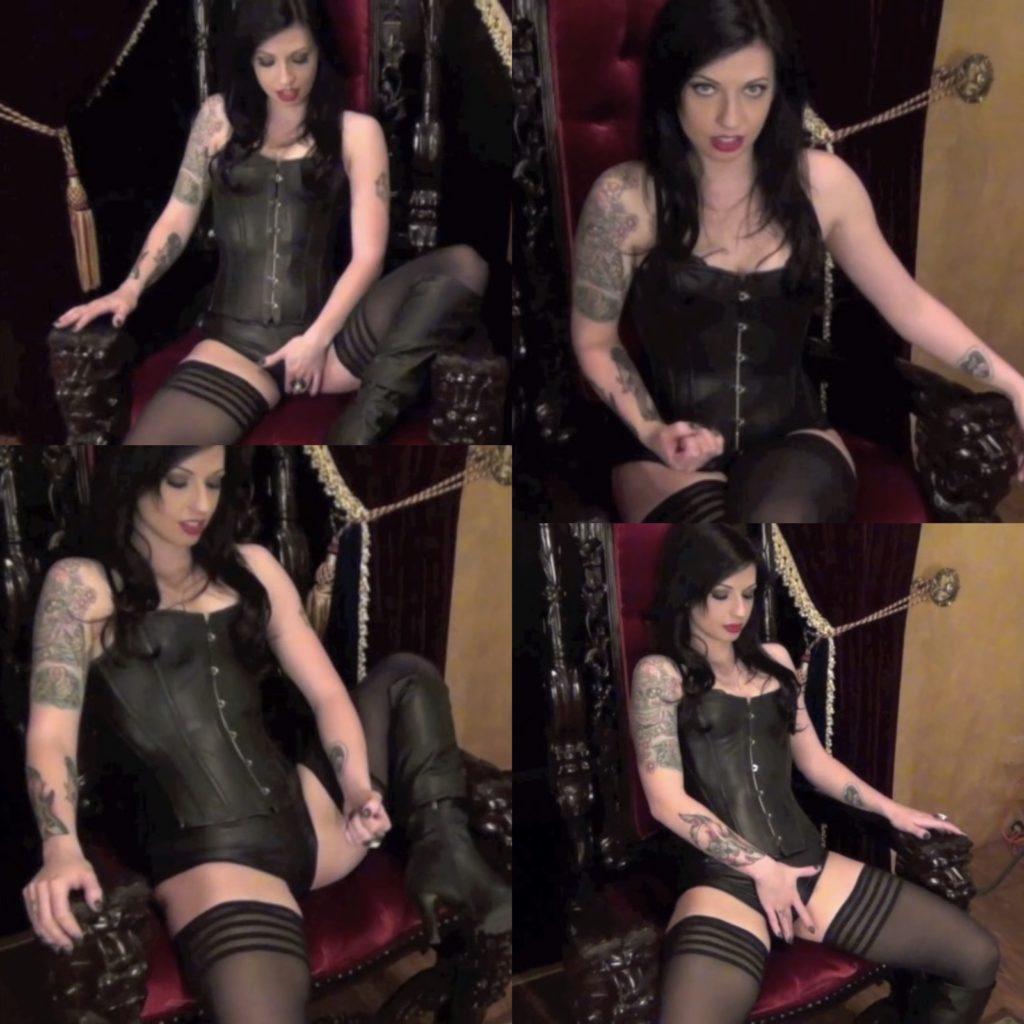 Clip Name: Stroking Addiction POV

Date Reviewed: April 24th, 2017

Cost of the clip: $5.99