One look at gorgeous GlamyAnya and your thoughts turn to mush.  All you want to do is fuck…your hand that is! You'll jerk it like the loser you are to Goddess' gorgeous leather-clad ass.  You belong on your knees, Goddess' ass in your face, pumping your cock uncontrollably like the pathetic loser you are.  In her skintight leather leggings and sky-high heels, GlamyAnya sways her delectable ass back and forth as she tells you how much you are in love with it.  Look between your legs and admit that you are a chronic masturbator.  Nothing else matters but stroking as you lean forward and sniff your Goddess' ass.  You love the scent of her ass…it's your addiction.  Goddess' scent mixed with the aroma of leather makes your dick throb.  But the only use it has is being stroked by your own hand while you worship her leather ass with your tongue.  It feels so good to look at GlamyAnya and fuck your hand all the way to that edge, doesn't it loser? But understand that you will jerk off for her as she fucks your face.  This will be by GlamyAnya's rules and it will be all about her gorgeous round ass.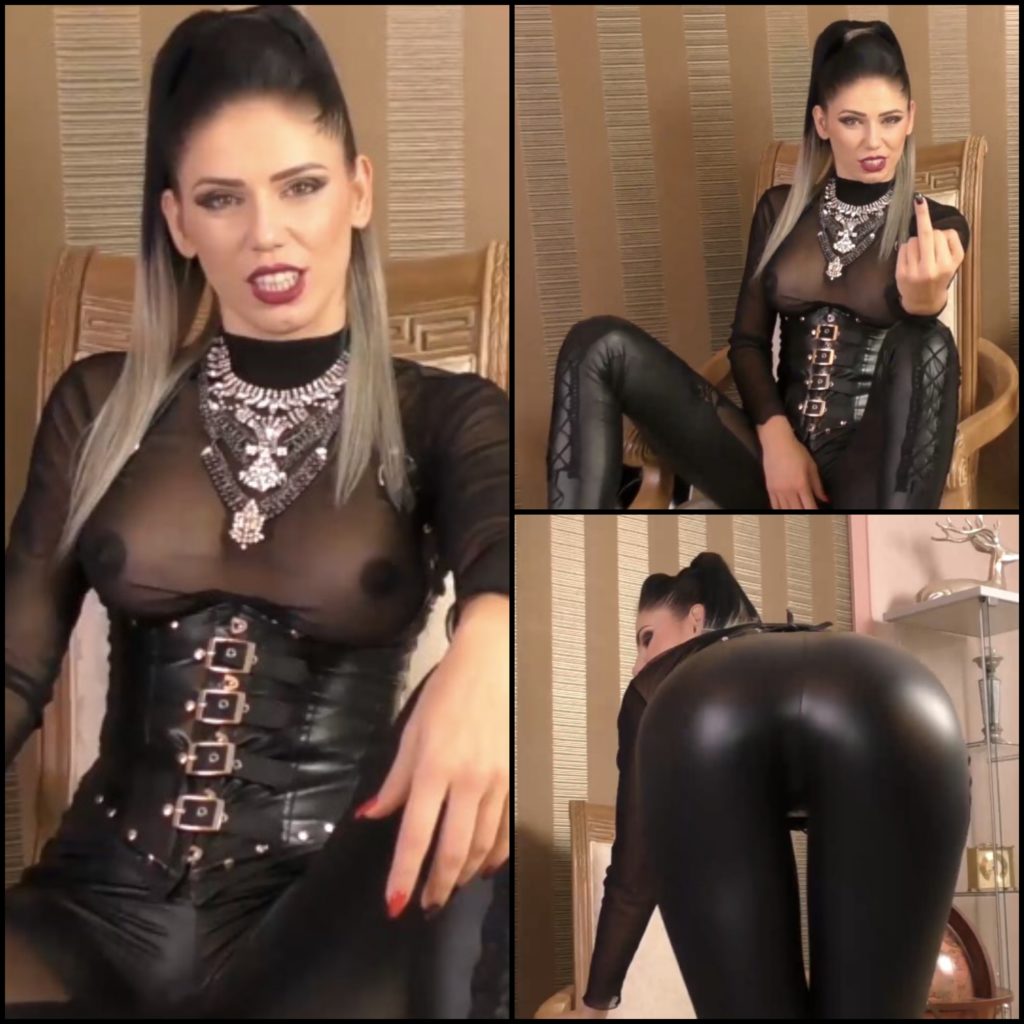 Closer, lean in.  Sniff that ass.  Press your tongue against that perfect crack and lick all the way up and down.  Her sexy Barbie ass deserves a nice place to sit…upon your face.  Soft and warm.  She will press down as you try desperately to snake your tongue inside your Goddess.  Breathing isn't necessary, just lick, slave! This is your existence.  Licking leather pants, licking leather panties and ass.  Each time you leave GlamyAnya's presence you will leave with the essence of her ass all over that pathetic face of yours.  Jerk it because her gorgeous ass is the only thing that gets you off any more.  Spreading her ass cheeks, she commands you lick that perfect pink rosebud.  Kiss it and slip your tongue inside.  French kiss that asshole like a good little bitch.  Each time she pumps up and down, riding your face, your cock throbs in your hand a little more.  GlamyAnya owns you with her amazing ass and she owns your cock.  Every orgasm she grants you will be in honour of her glorious ass.  Stroke to that edge and then show your Goddess how you cannot hold back any longer.  Cum all over the ground as her ass rides your face.  Make that worship puddle for the finest ass you have ever known…the one that controls everything about you and owns you!

Clip Name: Resist In Front Of My Bad Barbie Ass!

Date Reviewed: December 22nd, 2017

Cost of the clip: $19.99