She's quickly become an obsession for you, and there's never enough time in the day to drive yourself mad watching Goddess Ashley teasing and tormenting you in her clips.  As she lays there on the bed, telling you all the reasons why you can't resist her, from her sultry looks to that sweet Puerto Rican ass of hers, you throb with desire and lust. You want to reach out through your screen and squeeze those perfect cheeks, feel the weight of her magical breasts that are so full and round and perfect.  But it's so much more fun for Goddess Ashley to tease you than to actually let you in to play.  Making you squirm as she has you complete humiliating and degrading tasks is what really excites Goddess Ashley and you can't help but play her games.  She takes great joy in making your cock twitch as you leak precum into your pants like a faucet.  And if you want to continue being invited back into Goddess Ashley's Femdom world, you'll need to prove your worthiness.  What other sick and fucked up things might you do to prove your devotion to your Goddess? How far will you go to prove you can amuse and entertain her? One full day in chastity? You're hopelessly addicted enough to lock your cock away for Goddess Ashley for the day, aren't you pet? Just imagine your cock trapped in a cage as you stare at her gorgeous pictures on Twitter and watching her sexy tease clips.  It will be agony but you'll be suffering for your Goddess.  Lock it up for your Goddess, slaveboy. 

The limits you push and the boundaries you surpass each day for your Goddess, bring a smile to her beautiful face.  And today, with your cock locked in chastity, know that you are pleasing your beautiful Goddess as you suffer inside your prison.  She has you right where she wants you, locked in chastity for Ashley Rebel.  It feels so good to surrender to her, doesn't it pet? You need her to take control of your cock and lock it away before teasing it mercilessly as she does so expertly.  Knowing that Goddess Ashley owns the key to your cock and is the only person that could release you is a terrifyingly erotic experience.  Feel yourself straining against your new cage as Goddess Ashley lays back on the bed and slides her hands over her stunning huge breasts.  No one can tease you like she can and your cock is trying desperately to fill and swell but is being restrained by the chastity cage.  Does it hurt, pet? Let Goddess Ashley stare deeply into your eyes and gauge your suffering for her amusement.  Look into her spellbinding eyes and feel yourself surrender completely.  You can never leave Goddess Ashley.  You crave the humiliation of constantly having to prove yourself to your Goddess, and no one can get inside your head and thoroughly mindfuck you like she can.  As she dangles the keys before you, know that you'll spend a lifetime earning any release she may offer you, no matter how temporary.  That's a good boy…lock that dick up for Goddess Ashley Rebel.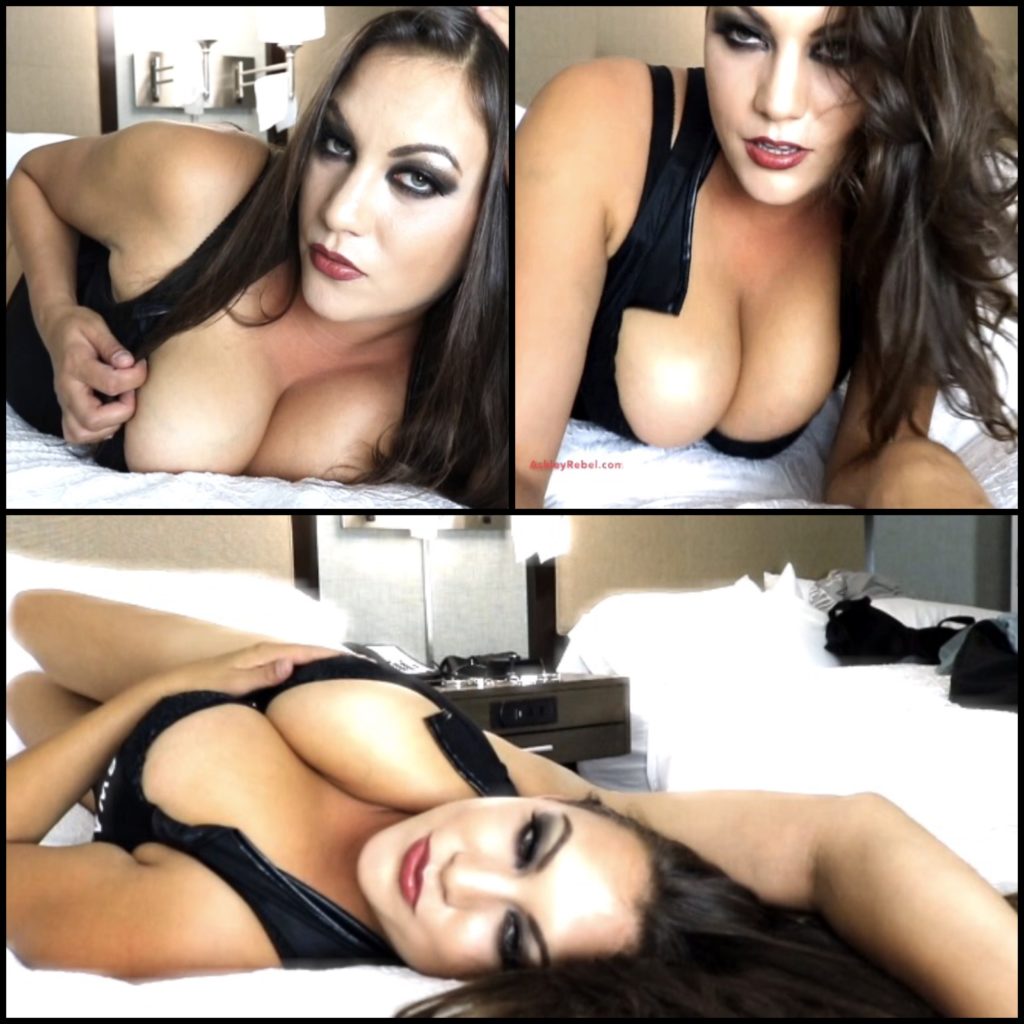 Clip Name: How Far Will You Push Your Chastity?

Date Reviewed: November 22nd, 2017

Cost of the clip: $7.99