She is Mistress Nikita's perfect pet.  Trained to be the slut she so craved to be, Barbi has become an expert in bringing men pleasure on command.  With her stockings and heels, long nails and painted lips, Barbi is always ready to serve any slave or Alpha stud that Mistress Nikita brings to her.  She is the perfect blonde bimbo and Mistress Nikita's most prized whore.  Pimping out her holes for amusement and pleasure is what Barbi was made to be.  And today, Mistress Nikita is sharing her toy with a thick cocked stud that will use her hot little mouth and ass as pleasure holes.

As Mistress Nikita brings her guest into view, Barbi eagerly awaits, kneeling and licking her glossy lips.  She is a cock hungry little slut, and the minute she's commanded to, she takes his cock in hand and begins licking and sucking it like a pro.  Holding back her hair, Mistress Nikita encourages Barbi as she sucks that cock so perfectly.  From his groans and demands, it's easy to tell that Barbi is very good at what she does and is pleasing both Mistress and her visitor.  Deep-throating like she's been trained to do, Barbi brings her man to the edge with her sensual mouth.  When he's almost ready to pop, Mistress Nikita tells Barbi it's time to present her slut hole and she obediently crawls onto the bed and presents her man pussy.  Lifting her frilly skirt, Mistress Nikita guides her guest so his hard cock is ready to press deep into Barbi's cunt. 
He's not gentle, and why would he be? Barbi is built to fuck.  Built to please men, and as he pounds her ass, Mistress Nikita giggles in amusement.  Her little fucktoy is all grown up and pleasuring men just as she's been trained to do.  The only thing left is for her to hungrily swallow that load of cum she's boiled over and she laps it up right down to the last drop before thanking "Daddy" for fucking her today.  She's such a polite little slut.  Mistress Nikita has trained her pet well, and she's eager to learn and serve even more!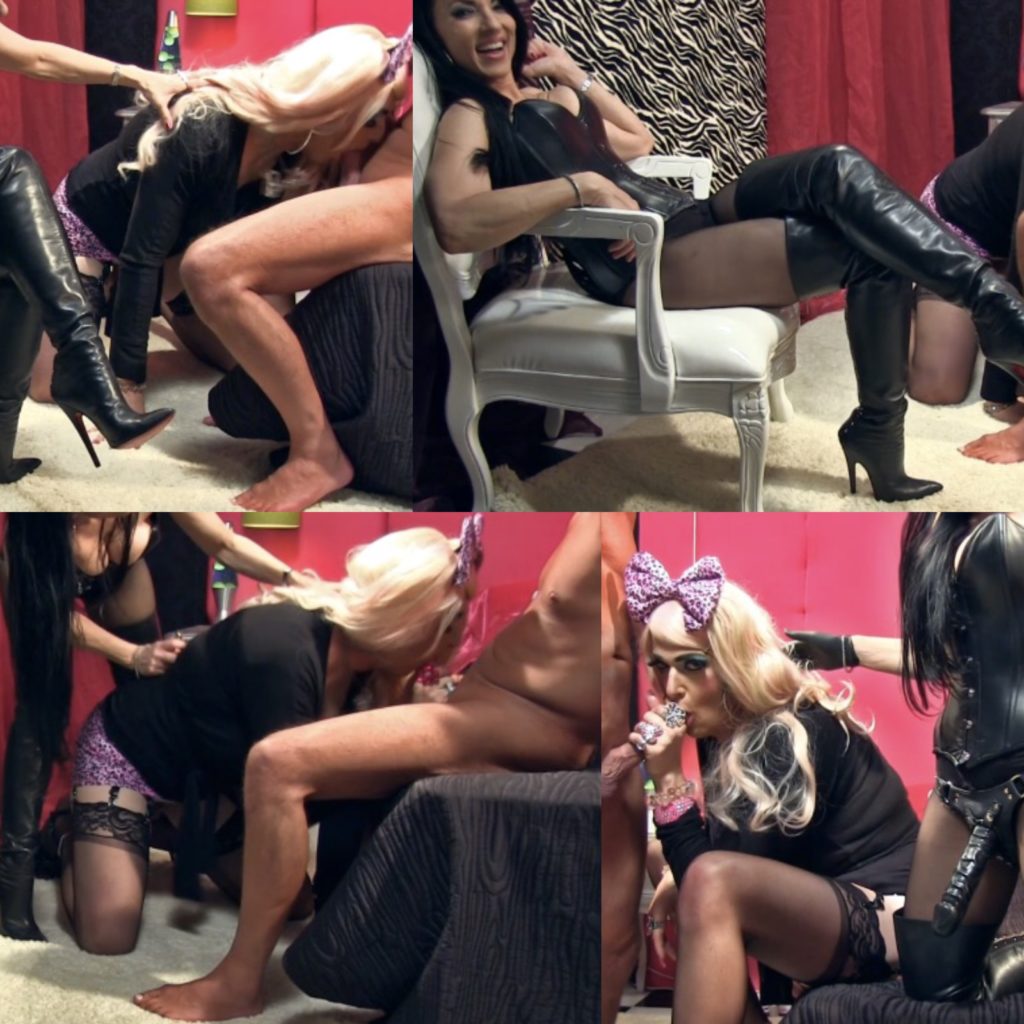 Clip Name: Gag On It Slut

Date Reviewed: February 9th, 2017

Cost of the clip: $11.99