In her skintight red spandex catsuit and DSQUARED boots, with her whip in hand and at the ready, raven-haired Queen Arena Rome strikes a formidable pose that would leave any man scrambling to his knees before her.  That gorgeous catsuit clings to her every perfect curve.  Unzipped provocatively, Queen Arena Rome reveals just a glimpse of her stunningly perfect breasts that leave you throbbing.  She is gorgeous in ways that most women simply cannot compete with.  You're mesmerized by the hypnotic back beat of music and each time the camera pans her body, you feel yourself slipping a little more under her intoxicating spell.  Surrender little slave.  You're no match for a woman this powerful.  You belong to Queen Arena Rome, and you will do everything it takes to please your Queen.  Are you ready to learn what it will take to please Queen Arena Rome? Do you have what it takes to serve her and join her stable of admiring pets?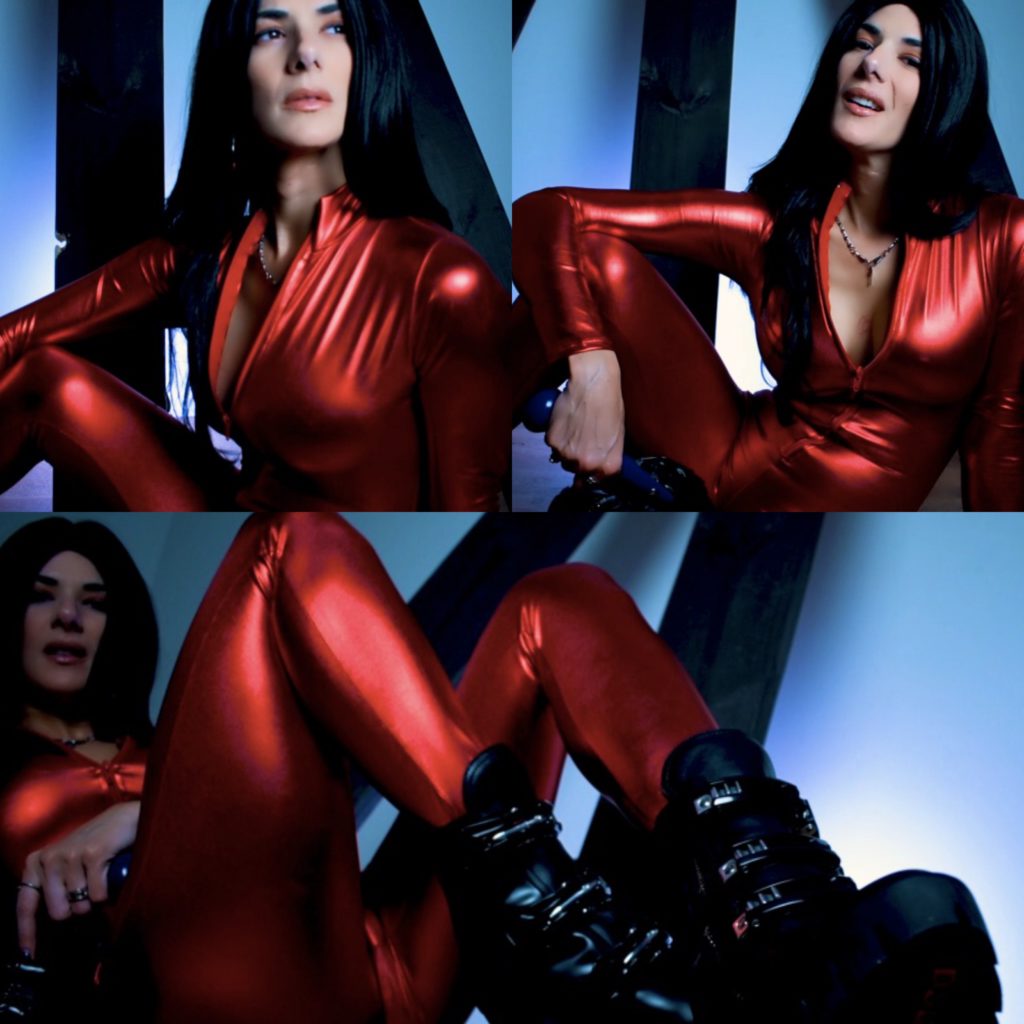 If you're to become a devoted worshiper of Queen Arena Rome, you will need to accept that she will expect total subservience.  This requires that you surrender your ass to her.  Whether she decides to use her wide array of strapon toys to plunder and pound your ass, or her selection of paddles, crops and floggers to beat your ass into submission, you will accept and embrace your place as her slave.  Look into her dark eyes as she tells you she likes to do whatever the fuck she wants to your ass and feel that cold shiver as you realize this isn't a game.  To please your Queen, you will suffer…perhaps even bleed, by her hand.  Whatever she has in mind, you will abide by.  You'll suffer humiliation as she entertains her every whim.  If she allows you to lick her boots, know that her boots are worth more than you ever will be.  Treat them with special devotion and care.  Lick and clean those perfect boots and serve your Queen.  Clean those boots before your Queen will turn her attention to your ass.  Your man pussy is going to be stretched by force.  If it slides in too easily, she's not happy.  She wants it to hurt…wants you screaming like the little bitch that you are.  Always keeping you on your toes.  Bent over, your ass will be reamed by your Queen.  Gaped by bigger and bigger toys as she owns your ass.  And as you crawl away, a broken man, remember that there will only ever be one true Glam Domme.  Queen Arena Rome has left her mark upon your body, and your psyche.  Today you admit to yourself that you've been taken, broken and used by the G.O.A.T. and no other Glam Domme will ever compare.  You bow before absolute perfection.

This is the first clip of Queen Arena Rome's I've purchased, and the addiction has settled in rather quickly.  Everything about the production of this clip is sensual, from the lighting to the background music, to the changing camera speeds as it slows down panning the Queen's magnificent body in her shiny red catsuit.  Let your senses surrender to everything that comes their way as you enter Queen Arena Rome's seductive Femdom world.  If this clip is any indication, you'll never leave!
Clip Name: Disorder In The Shadows (DSQUARED)

Date Reviewed: December 16th, 2017

Cost of the clip: $14.99