She is so perfectly beautiful, you simply stare in awe at her.  Women like Goddess Lottie Harley are extremely rare, and are to be cherished and worshiped.  As you bow before your Goddess, you feel absolutely infatuated with her…under her spell…exactly as she wants you to be. Show her that you love her and want to give her everything.  Show her how important she is and make Goddess Lottie your highest priority. How could you not want to devote yourself to pleasing this sensational beauty? Look at her pouty lips and blond braids…that perfect tattooed body and those icy blue eyes.  She's perfection.  She's the woman of your dreams and you can feel her pulling your puppet strings as she seductively licks her lips and bats her eyelashes at you leaving you devastated and willing to do anything. Her beauty overwhelms your pathetic tiny mind leaving you completely unable to resist her. She's everything you could want and she knows how to manipulate and control weak men like you effortlessly.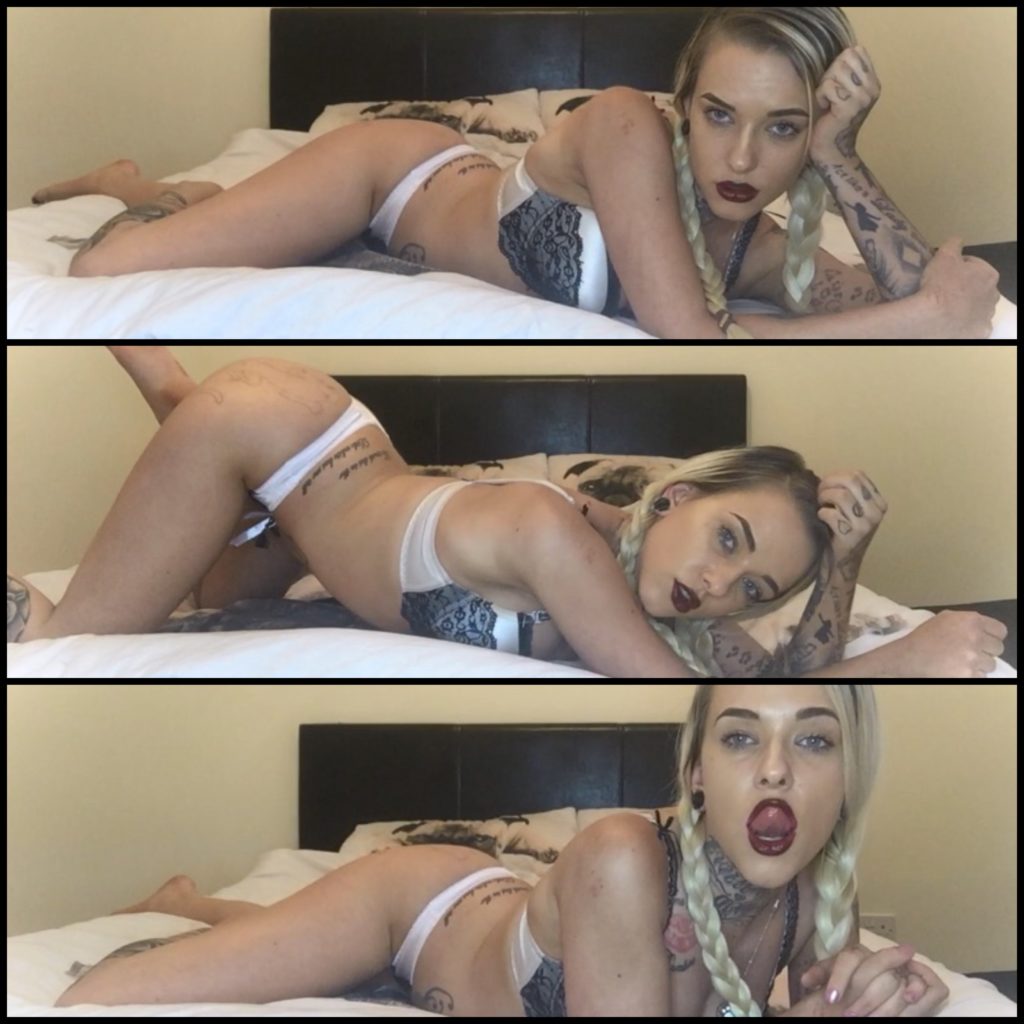 Can you handle Goddess Lottie's Findom game? The rules of her game are very simple…every time she brings you to the edge, you will tribute.  You will not cum until she grants you permission.  You will tribute in return for Goddess allowing you to edge in agony again and again, with the faint hope she'll allow you to cum when she decides you've played her game long enough to amuse her. She controls your cock as she licks her lips so seductively it puts her in the elite class of lip/tongue teasing Goddesses with the likes of Ceara Lynch!  And while she fills your cock and balls with desire, she'll drain that wallet of yours one edge at a time. Feel yourself becoming spellbound as she traces her hands up and down her gorgeous body, leaving you moaning as you edge and tribute.  Over and over again, quicker each time.  The money is flowing as you desperately hold back that orgasm and try to play Goddess Lottie's diabolical JOI game.  This is a game you can't possibly win. She teases, your cock twitches, you pay.  That's how this game is played.  Will you be Goddess Lottie's good bitch and play her game? How far can she push you to that edge, and how much will you end up owing her when this game concludes? Kneel before your beautiful Goddess and tell her you want to play her game as she smiles, winks and prepares to drain you 😉

Clip Name: Can You Handle My Game?

Date Reviewed: April 21st, 2017

Cost of the clip: $13.99