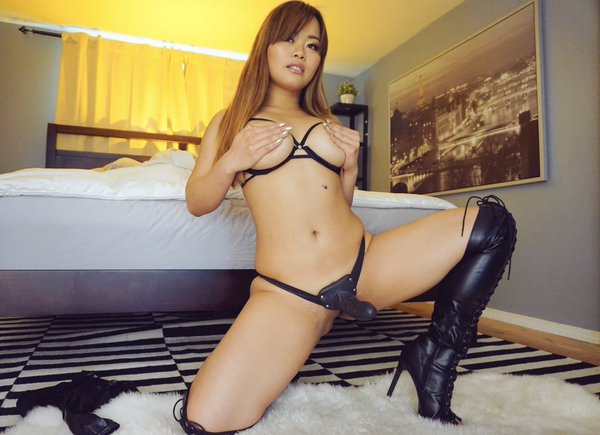 Living a mere 2.5 hours up the I-5 highway from a woman as powerful and beautiful as Mistress Sydney, I have lusted after her for a while now.  I've bought and reviewed several of her amazing clips, and followed her Femdom adventures on Twitter.  She is very obviously a stunningly beautiful Goddess who is both erotic and cruel in the perfect blend of each.  I've long held a fascination with her strapon clips and when I messaged her to ask about a cam session, I nervously asked her about wearing it on cam.  What follows is an amazing, erotic and altogether incredible experience in which I was made to suck her dick, bend over and beg for it in my ass, and thoroughly broken as a man…and I loved every second of it!!!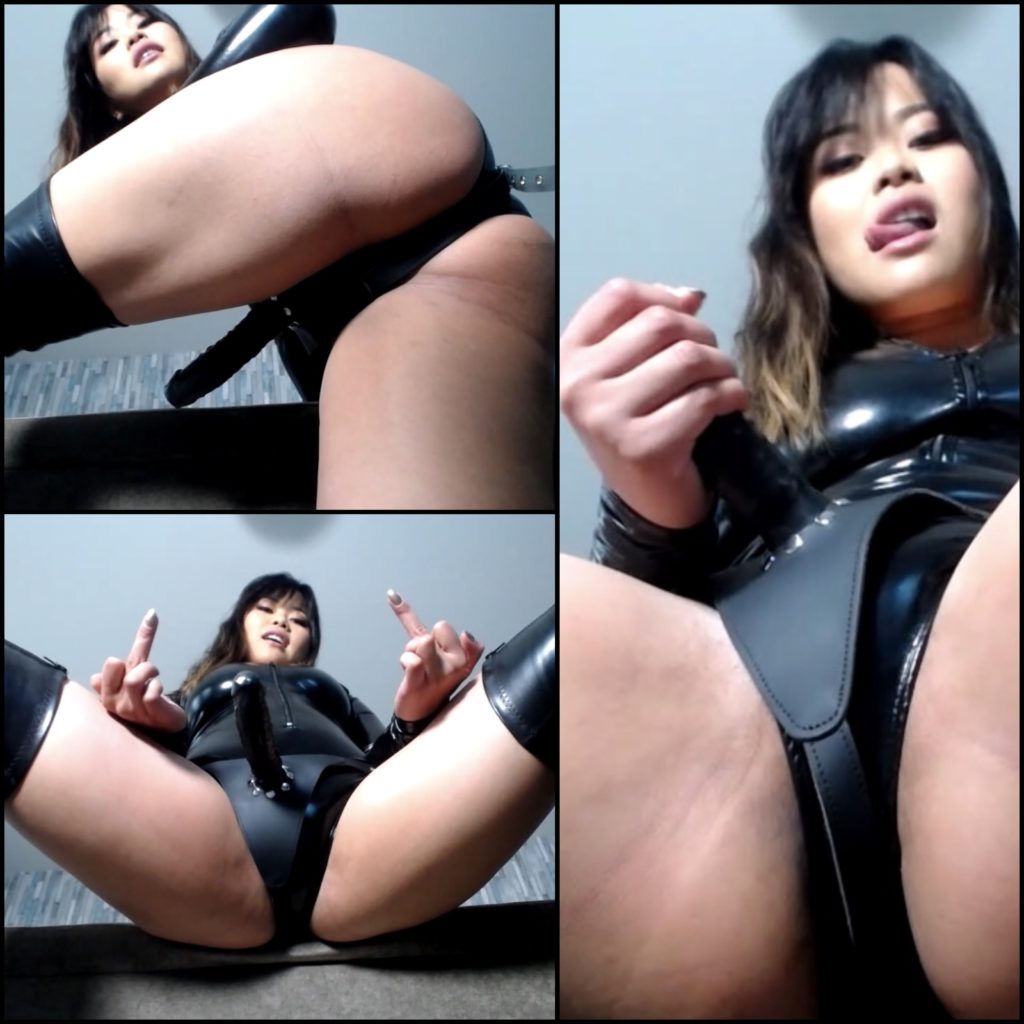 The instant she came into view on screen, her huge black cock protruding between her powerful muscular thighs, I was hooked.  "On your knees bitch!" were her first words, and the session was well under way.  Stroking that massive black phallus, Mistress Sydney tapped into coerced bi fantasies of mine, forced anal training images and everything in between.  She did a little homework, it seems, and knew of my fetish for trans women and also for coerced bi clips.  She knew exactly what buttons to push to make me throb and used her strapon as an extension of herself to show me exactly how I was to stroke my own cock to match her stroking.  It was mindfucking at it's best.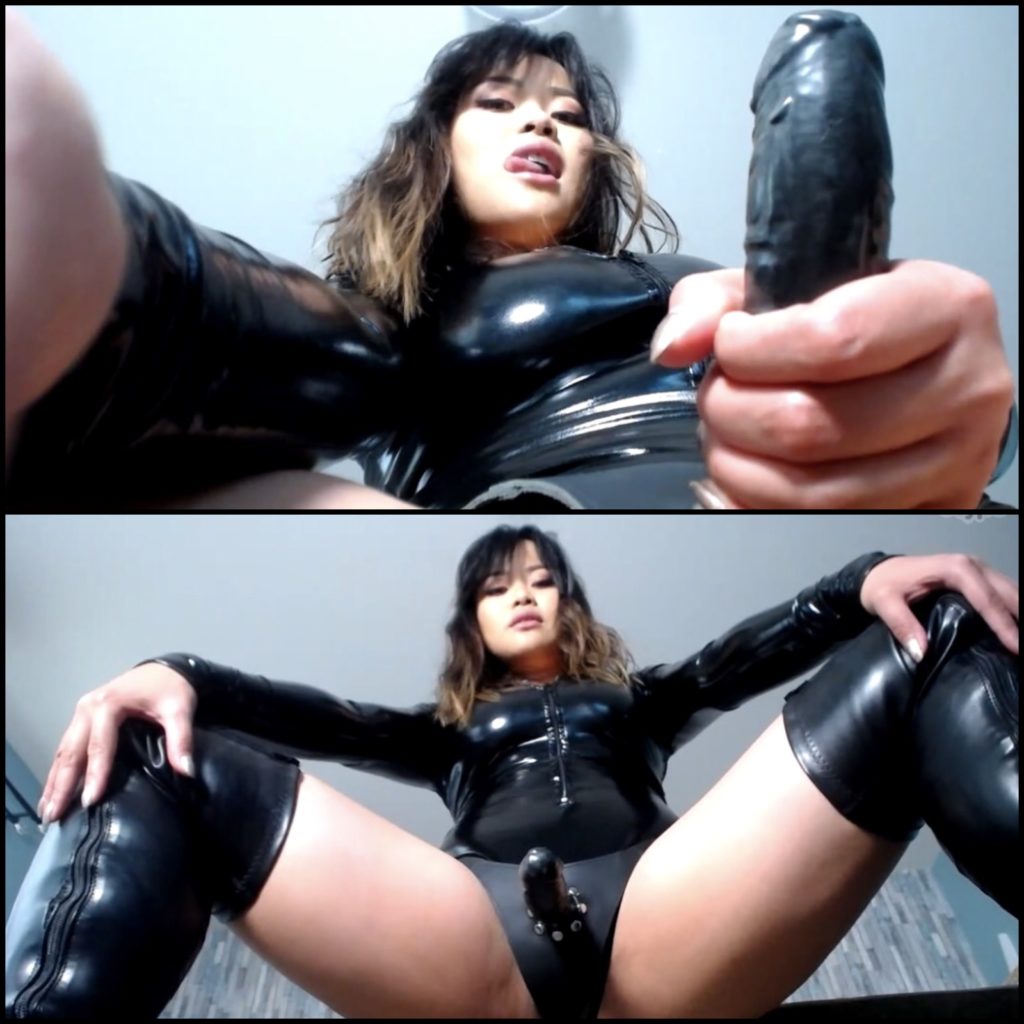 With me fully aroused and pretty much willing to do anything, Mistress Sydney had me primed to become her willing cocksucker.  She called me a faggot as she told me exactly how to swallow her dick.  She humiliated me about how much I was enjoying it and how I obviously had been practicing.  All the while, she seductively stroked her strapon as an extension of herself.  She very obviously knows her way around strapon training, and it was about this point that I started dreaming of what it might be like to experience this kind of session in person.  Perhaps that will be my next foray into Mistress Sydney's erotic world of Femdom.  Something tells me she would not be gentle, but that I also would find myself embracing being taken hard and deep by this seriously beautiful Goddess.  Even as I type this I find myself thinking about a live session and what it might be like.  When you read this Mistress, and I hope you do, you'll know the impact you had on me during our session.  Know that I'm eager to fall deeper down this rabbit hole if you would have me.

Anyone reading this that has seen even one of Mistress Sydney's fetish clips knows how overwhelming she can be.  There is no doubt left that you are there to obey and worship, and she is in charge.  But that's exactly how you want it to be.  Turn over all control to this breathtaking Goddess, and let her have her way with you.  That is what I did for this cam session, and it was one of the most memorable experiences I've had.  I cannot recommend any more emphatically how much you NEED to arrange a session with Mistress Sydney, as I did.  She will take your fantasy from standard to hi def, so to speak, and leave you trembling.  She is an expert in turning men into cowering shells of their former selves, and I for one, am a better submissive for the experience.  Contact Mistress Sydney and tell her you want to experience what she did to slaveboysmith, and let her beautifully twisted mind get to work on creating the ultimate cam session fantasy for you.  Trust me, you will remember it forever!

| | | |
| --- | --- | --- |
| | Score  /10 | Comments |
| Ease to arrange | 9 | With her busy schedule, and my limited opportunities, arranging a session took a little work.  That said, Mistress was very professional and the wait, such as it was, was well worth the session I experienced. |
| Cam connection & sound | 10 | When she came on cam, it was as if I was kneeling before her.  Everything was perfect! |
| Appearance of Domme | 10 | Living in a city with a very high Asian population, I see many beautiful Asian women each day.  None compare to Mistress Sydney.  She is exotic, erotic and flawlessly beautiful.  She is, in every way, the consummate perfect 10. |
| Willingness to accept input |  10 | Not only was she willing, Mistress Sydney was even eager, to incorporate her strapon when I asked for it.  She messaged to ensure the outfit I had requested was perfect, taking the time to set the stage for my fantasy.  Once we started, she knew exactly how to make my cock turn to granite and my brain to mush. |
| Price | 10 | Her prices are very much in line with what other Dommes charge and she was generous with her time.  We took screenshot pics to begin with and then the session went for as long as I could hold back. |
| Overall satisfaction with session |  10 | If you've read this far you already know that I have run out of superlatives to describe just how perfect my cam session with Mistress Sydney was.  She is everything you imagine her to be after seeing her in action in her clips…and so much more! |
Feed your growing addiction for Mistress Sydney by following these links:
TWITTER: Click here

YOUTUBE CHANNEL: Watch here

VIDEOS: Go here

GET MY NEWSLETTERS: Sign up here
SKYPE SESSIONS: Go here 

WISHLIST!: Sign up here