The first clip of Goddess Lacey's that I watched hooked me.  She has a unique ability to swing back and forth like a pendulum between the wickedly sexy Bitch Goddess of your dreams and an "innocent" and cutesy girl next door you simply cannot resist.  With every subsequent clip I purchased, I looked for that duality and found it even more intoxicating.  She knows exactly how to seduce, tempt and completely disarm any man in her presence.  When I contacted her about a cam session, it seemed natural that I would ask her to portray the ultimate bratty schoolgirl who turns her teachers into slaves, taking everything she desires and leaving them throbbing with desire for her.  My cam session with the schoolgirl of my dreams, and nightmares, was everything I hoped it would be, and like Goddess Lacey herself, so much more!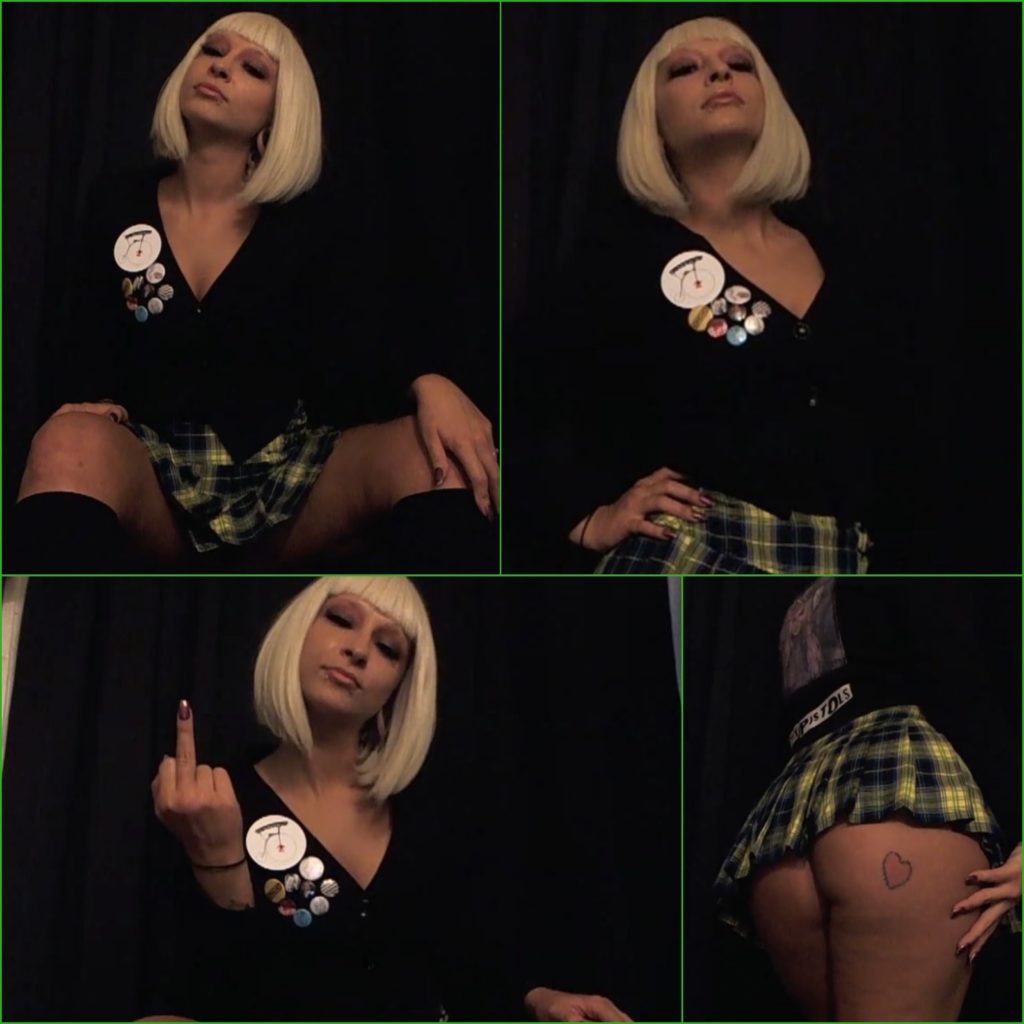 As she appeared on screen in her sexy schoolgirl uniform and began posing for the amazing screenshots you see included with this review, already I knew I was in trouble.  Resisting a woman as sexy and provocative as Goddess Lacey is unimaginable.  When she turns on the tease and begins to push fetish buttons she easily detects in your lustful responses to her dialogue, you feel every bit of power draining from you and being consumed hungrily by her.  It is thoroughly erotic to feel helpless to resist in the presence of someone so young and sexy.  I can only imagine the devastating effect Goddess must have had on her actual teachers given how easily she could persuade me into changing grades and doing homework assignments for her.  And as cute and sweet as she can be, make no mistake, Goddess Lacey is a predatory kink Queen beneath that innocent exterior.  The things this wicked schoolgirl said she would do to me in front of the entire class!!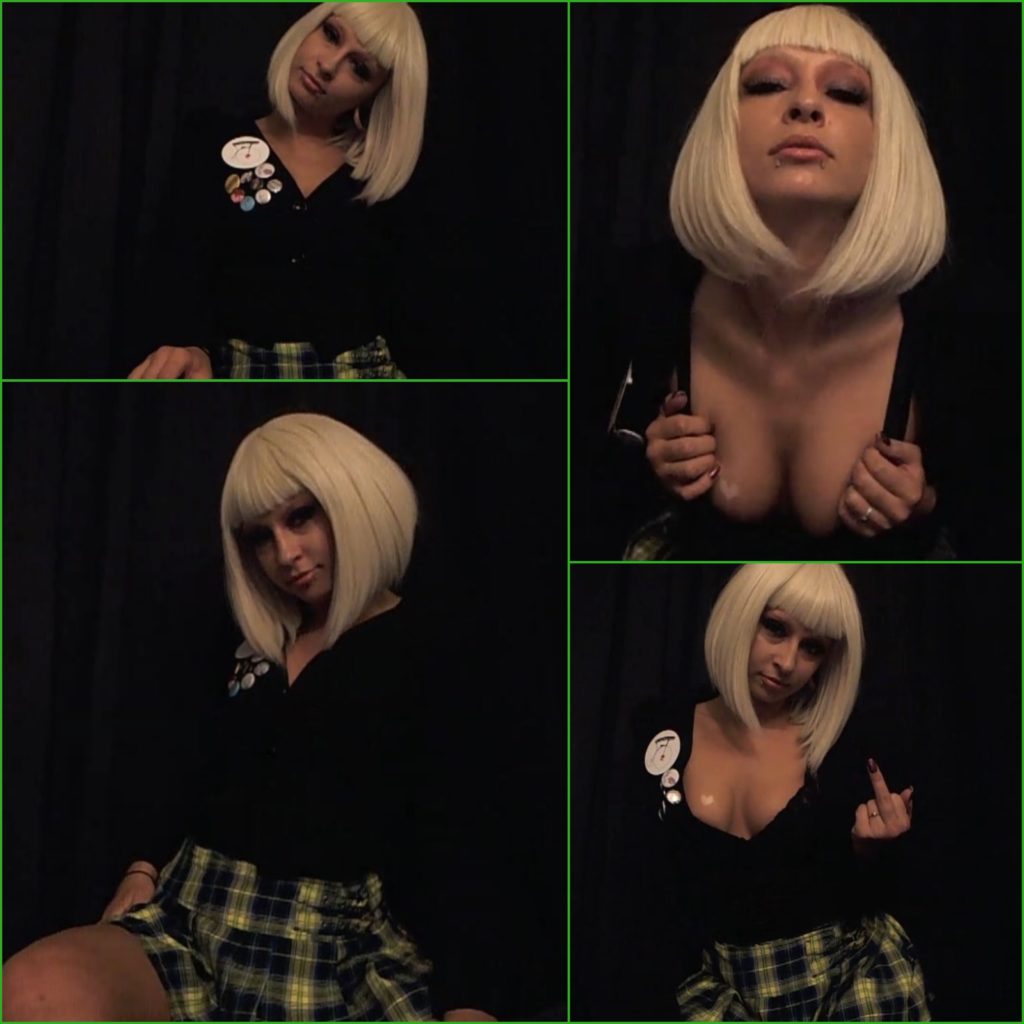 Alternating between playful humiliation and relentless teasing, Goddess Lacey used her gorgeous body and exquisite face to seduce and tempt.  By the time she was done with me, there was nothing this teacher wouldn't have done to keep his absolute favourite student happy and satisfied.  To be so young, and so powerful, is intoxicating.  She is the ultimate seductress, an expert temptress and seducer of men.  Goddess Lacey, the wickedly sexy duality of Femdom Goddess and schoolgirl sexy.  As I write this review, I can't wait to try to give my hottest and most irresistible student a detention for being late to class again soon.  The teacher becomes the slave and Goddess Lacey has her way…as it should be!

With every clip of hers I watch, I find myself more and more under Goddess Lacey's seductive spell.  Some women use whips and chains and verbal berating to break a man's will to resist, but truly powerful Dommes, like Goddess Lacey, coerce their prey into succumbing through seduction.  Making a man want to submit…even beg to do so? Now that is truly powerful and erotic.  Thank you again for a most memorable session, beautiful Goddess.  I won't soon forget the things you did to me in that detention hall which you quickly turned into your dungeon of seduction 🙂

| | | |
| --- | --- | --- |
| | Score  /10 | Comments |
| Ease to arrange | 9 | Although we had to reschedule once, Goddess Lacey is well worth the wait.  This is a Domme in great demand, so wait your turn boys! She'll make it more than worth your while. |
| Cam connection & sound |  9 | Although the audio cut out a couple of times when Goddess Lacey  moved away from the cam, it was only noticeable because I hung on her every filthy seductive word she said!  When she leaned in close to tell me all those wicked things she was going to do to me….trust me, I heard everything! |
| Appearance of Domme |  10 | Goddess Lacey is absolutely gorgeous, and she looked breathtaking in her sexy schoolgirl uniform.  Flawlessly perfect, no man is resisting her…believe me! |
| Willingness to accept input |  10 | Everything I asked for was accommodated and enhanced.  Goddess took my input, added her own sexy spin and made my fantasy come to life in ways I had only dreamed of. |
| Price | 10 | Very reasonable and non-rushed.  My session was amazing and full value for what I paid. |
| Overall satisfaction with session |  10 | I cannot wait to do a follow up session.  I loved every second of being on my knees before the ultimate schoolgirl temptress.  Goddess…you are incredible!! |
Feed your growing addiction for Goddess Lacey by following these links: