For some, the fantasy lays dorment, tormenting them as they try desperately to suppress it.  For others, it's an exciting and enticing escape that is explored consensually with a Goddess of your dreams.  Whatever the case, the homewrecker fetish is something that many Dommes enjoy driving their slaves wild with in clips and in sessions.  Goddess Amy Wynters is downright predatory in her wicked ideas of how to push the boundaries for her married slaves, and she thoroughly enjoys being the "other woman" in their lives.  Some time ago, Goddess Amy began teasing and tormenting me in phone sessions, cam sessions and via messages, testing my resolve as a husband and temptation limits as a slave.  In her words, "a bad husband can be a deliciously wicked slaveboy". Her clipstore is full of devilishly wicked tasks for her married slaves to carry out, risking their wedded bliss to please a woman so beautiful and powerful that we men simply cannot say no.  But how far is too far? What will you forsake and what will you allow her to do? Be careful though, my fellow homewrecker fetish slaves, inviting Goddess Amy to play within your marriage can be a dangerous proposition, and she loves to push buttons and make you squirm.

Prior to our session, Goddess Amy instructed me to have a few things at the ready as I bowed down before her.  I was teased mercilessly about what she might do with me in the week leading up to our cam session, and I was given a strict "no cumming" directive.  Edging was not only permitted, but encouraged, and Goddess Amy "generously" provided inspiration through little clips and images sent via kik.  By the time our session was to begin, I was practically climbing the walls with arousal, vulnerable and desperate, exactly as Goddess intended me to be.  If you've never had the privilege of a session with Goddess Amy, you need to know that there is nothing that makes your cock jump to attention more than hearing her greeting of "Hello Bitch".  It was time for Goddess Amy to test me and my marriage and I was in a condition not well suited to resisting.  This was anything but a fair battle of wits, and I was most definitely going to be doing things today that would have me shaking my head afterwards.  Goddess Amy smiled her sensual and teasing smile and told me to begin stroking slowly and in that instant I felt myself slipping under her spell.  Nothing beyond that moment would be under my control…exactly as it should be.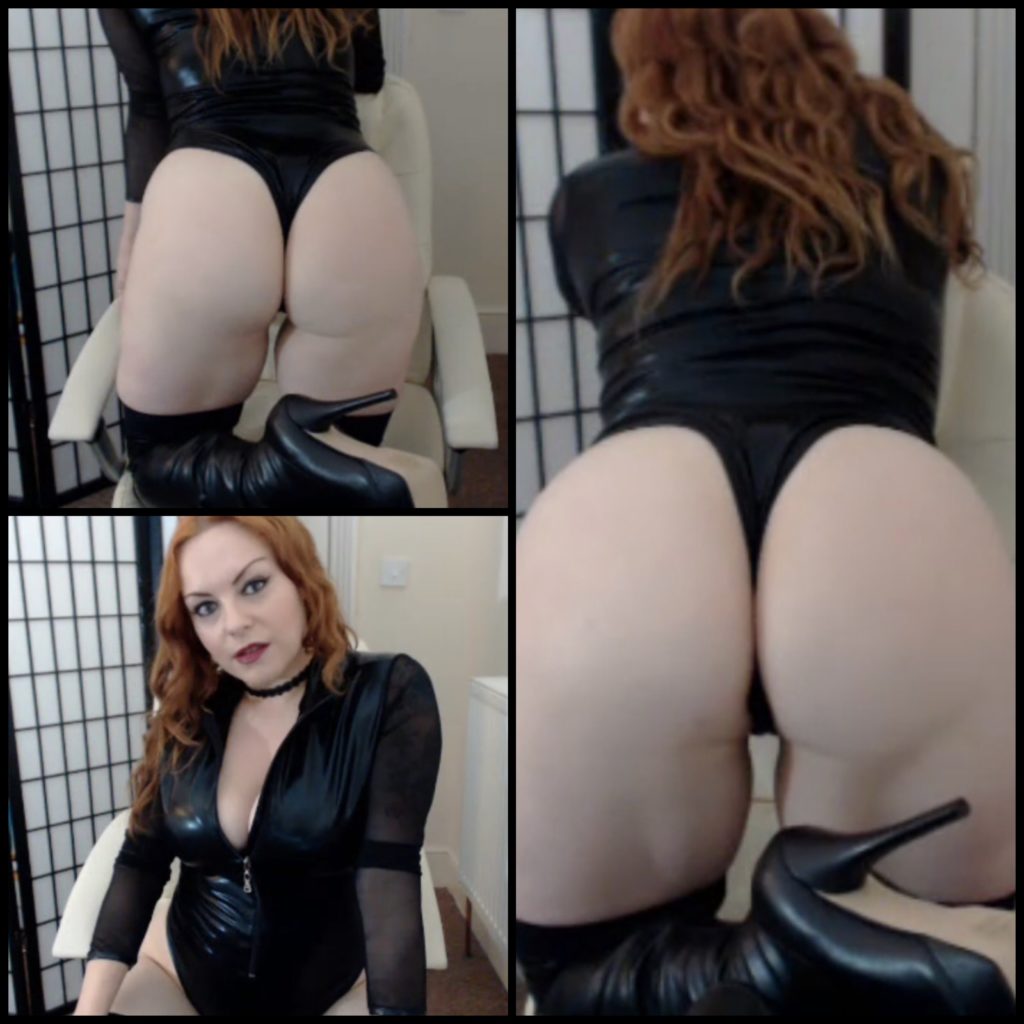 Dressed in skintight black PVC, Goddess Amy was a vision of erotic temptation.  Her perfect large breasts were prominently on display, ensuring total compliance.  Her lips painted red to match her nails, and her gorgeous ass hugged tightly by the PVC left me aching to stroke faster.  "Slowly, pet", she told me as he coaxed me to the edge for the first of so many times I lost count.  She knew the answer already, but asked about the whereabouts of my wife anyways.  I told her that my wife was out of town and she smiled devilishly as she told me I was all hers.  "Did you bring what I demanded of you today, bitch?" she asked, knowing full well I would never disobey her wishes.  I was to have a picture of my wife and I together and my wedding ring ready and nearby.  "Do you love your wife, bitch?" she asked and I responded that yes, I do. Goddess then had me admit that despite this, I was hers to do with as she wished today, including making me do humiliating and wicked things to my marriage. As she softly caressed her amazing breasts through the PVC, she had me stroking and admitting that my wife has never aroused me in the way that she can.  I love my wife, but being honest, she cannot compare to Goddess Amy's beauty and allure.  Very few women on this planet can.  She is as wicked and devious in mind as she is irresistible and sexy in body.  The entire experience of being mindfucked and tempted by Goddess Amy is indescribable and worthy of a session just to know of what I speak.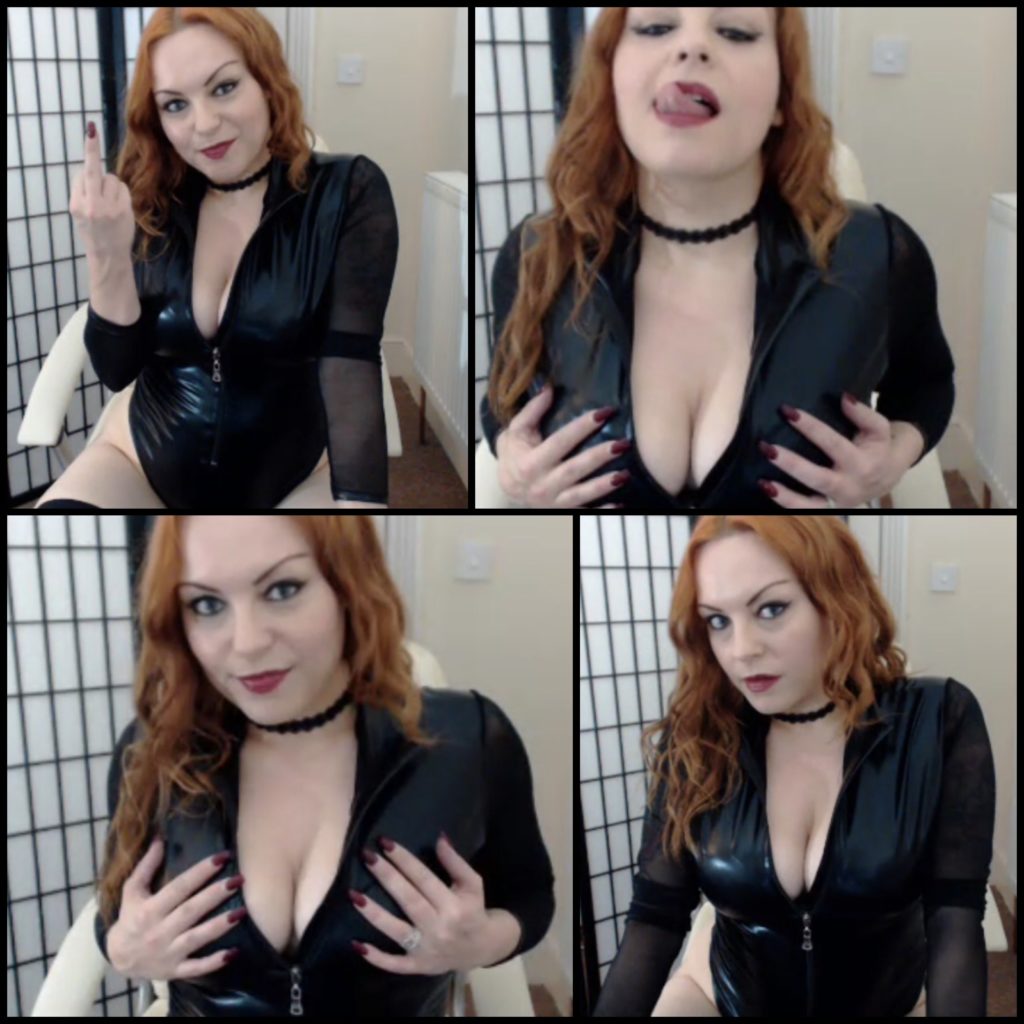 The specific details of exactly what Goddess Amy had me do with that picture and my wedding ring will stay between Goddess and slave.  Some things are personal and intimate, and you'll have to experience them for yourselves.  It's safe to say that on the day, I was a better slave than a husband, exactly as Goddess Amy wished me to be.  I obeyed, I capitulated and I granted Goddess Amy access into my marriage more than is probably healthy.  I also experienced one of the most erotic sessions of my life as she drove me mad with desire and lust, willing to do almost anything for permission to release, no matter what the consequences.  The line between fantasy and reality was maintained, and Goddess Amy very responsibly kept things from going too far.  Right to the edge, exactly where she likes to keep her bitches like me.  Obey your Goddess, desecrate your marriage.  Kneel down and do whatever your perfect homewrecking Temptress demands of you and know that she is pleased with her good bitch.  Thank you beautiful Goddess.  Once again you have taken a session concept and turned it into an experience I couldn't have imagined.  Your ability to sense what a slave needs, wants and will do, is uncanny and unequaled.  I cannot say enough about how those reading this feature truly have to experience what it is to bow before you and surrender control.  While I may be somewhat of a wordsmith, my words simply don't do justice to how amazing a session with you really is!

| | | |
| --- | --- | --- |
| | Score  /10 | Comments |
| Ease to arrange | 10 | I am a very lucky slaveboy who is in regular contact with the amazing Goddess Amy.  Through kik messages and DM's on Twitter, she makes sure she's never far from this slave's thoughts.  When she told me it was time, I knew exactly what she meant and quickly arranged to be available to kneel before her and worship in a cam session. |
| Cam connection & sound | 10 | Every subtle tease of her sensual voice and devilish glint in her gorgeous eyes are crystal clear and perfect.  You will see and hear everything you need to completely enslave you to the point of desperate addiction. |
| Appearance of Domme | 10 | So beautiful.  Goddess Amy is absolutely gorgeous and she knows the impact her beauty has on men.  Her breasts, always prominently displayed, leave you throbbing.  Her ass, my weakness, is always at the ready to smother any resistance out of you.  Her smile, her eyes…everything will leave you weak.  She's really beautiful! |
| Willingness to accept input | 10 | We are at the point as Goddess/slave where Goddess Amy knows more what I need that I'm even able to articulate.  It's a powerful feeling handing over absolute control and knowing that Goddess Amy will craft a session that is memorable and erotic.  Whether on cam or phone, I've never been anything but overwhelmingly pleased with what Goddess comes up with in her wickedly kinky mind! |
| Price | 10 | Goddess Amy could probably charge me whatever she desires and I wouldn't be able to resist.  That said, her rates are more than reasonable and will keep you coming back again and again to where you belong, kneeling before your perfect Seductress. |
| Overall satisfaction with session | 10 | This is my 2nd cam session with Goddess Amy, and won't be my last.  I've had the privilege of enjoying 4 phone sessions with her as well.  With all the Femdoms out there, and all the choices we slaves have, returning to Goddess Amy again and again feels perfectly right.  She is a true sensual Temptress and I love the way she pushes my buttons and leaves new triggers for the next time she invades my mind and begins toying with my fantasies.  Trust me, you have to experience a session with her to truly understand my words.  Once you have, you'll wonder what took you so long to submit! |
Feed your growing addiction for Goddess Amy Wynters by following these links: