When you enter the world of exquisite Femdom Temptress, Domina Lynnette, you can actually feel her weaving a seductive web around you as you fall deeply under her spell.  From having watched, and reviewed, some of her clips, I was prepared for how beautiful Domina Lynnette is, and I knew that her style was more sensual than cruel.  Having said that, nothing prepared me for the all-consuming mindfucking that she had in store for me.  I have said many times that true power is displayed in not what you can make a slave do, but by what you can make them beg to do for you.  From the moment she came on screen, through her poses for these stunning screenshots you see accompanying this review, and right to the moment we said goodbye, nothing else existed by the perfect beauty on my computer screen.  I will endeavor to describe my experience, but I will certainly leave you with no doubt that words can't do justice to how amazing a session with Domina Lynnette truly is.  To understand completely is to experience it…and I highly recommend you make these arrangements.  I know I'll be going back again, because kneeling before Domina Lynnette and handing over total control of my cock, was one of the most erotic encounters I have ever experienced.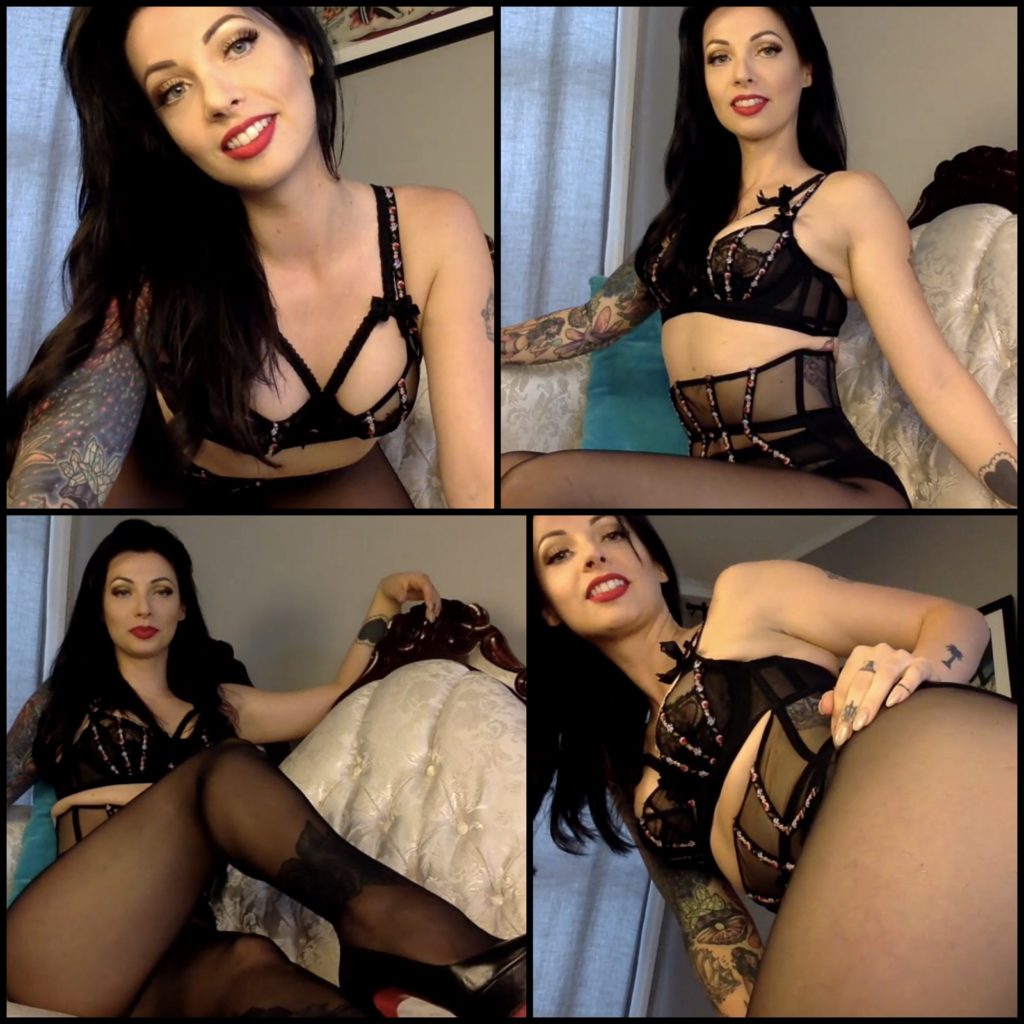 Dressed in all black, lingerie and nylons, her perfect red lips accentuating her stunning beauty, Domina Lynnette's voice is both sensual and teasing.  She took charge immediately, having me take out my cock and under the instructions of doing exactly as I was told, I was permitted to begin stroking.  I was to be on edge for virtually the entire session, as Domina coaxed me ever so close to orgasm again and again.  She sensed my reactions easily and from my groans and moans with every sensual experience, she was able to push buttons on me with ease.  Tracing her tongue along her perfect lips she pushed me to the brink and I barely held myself together.  "No accidents" she purred as she smiled wickedly and granted me permission to slow my stroking just a little.  "We want this to last slaveboy" she said as I reached the edge yet again.

Her long legs, encased in sheer black stockings, and that perfect ass of hers drove me almost mad.  Each time she extended her leg and looked back over her shoulder asking me what I'd do for the privilege of kissing her magnificent ass, I almost exploded.  Grinning and laughing softly, Domina Lynnette was the ultimate puppet master.  She had my cock on a string and played me like a fiddle.  It was remarkable to be a part of, having only seen her in action in her clips and already being suitably impressed with just that.  As I felt myself deeply under her spell, it was easy to imagine Domina applying just the right seductive pressure to a slave and getting everything she wanted.  I was in absolutely no position to resist from the moment we began.  With my cock on the precipice of eruption, my mind racing and my attention solely focused on her, Domina Lynnette began to push me to the brink one final time.  As I begged as hard as I can remember ever begging, this perfect Seductress licked her lips and brought me to the most mind-shattering orgasm imaginable! It felt like an eternity, but was probably more like the longest 30 seconds of my life as I tried to speak, but was simply overwhelmed.  When I finally composed myself enough to converse, Domina Lynnette laughed and winked at me.  She's seen that reaction in slaves before, obviously, and wasn't the least bit surprised at how she turned me into a mush brained stroke zombie for her.  When I finally spoke, all I could come up with was a throaty "Wow!".  For someone as verbose as myself typically, these three letters were as much as I could muster.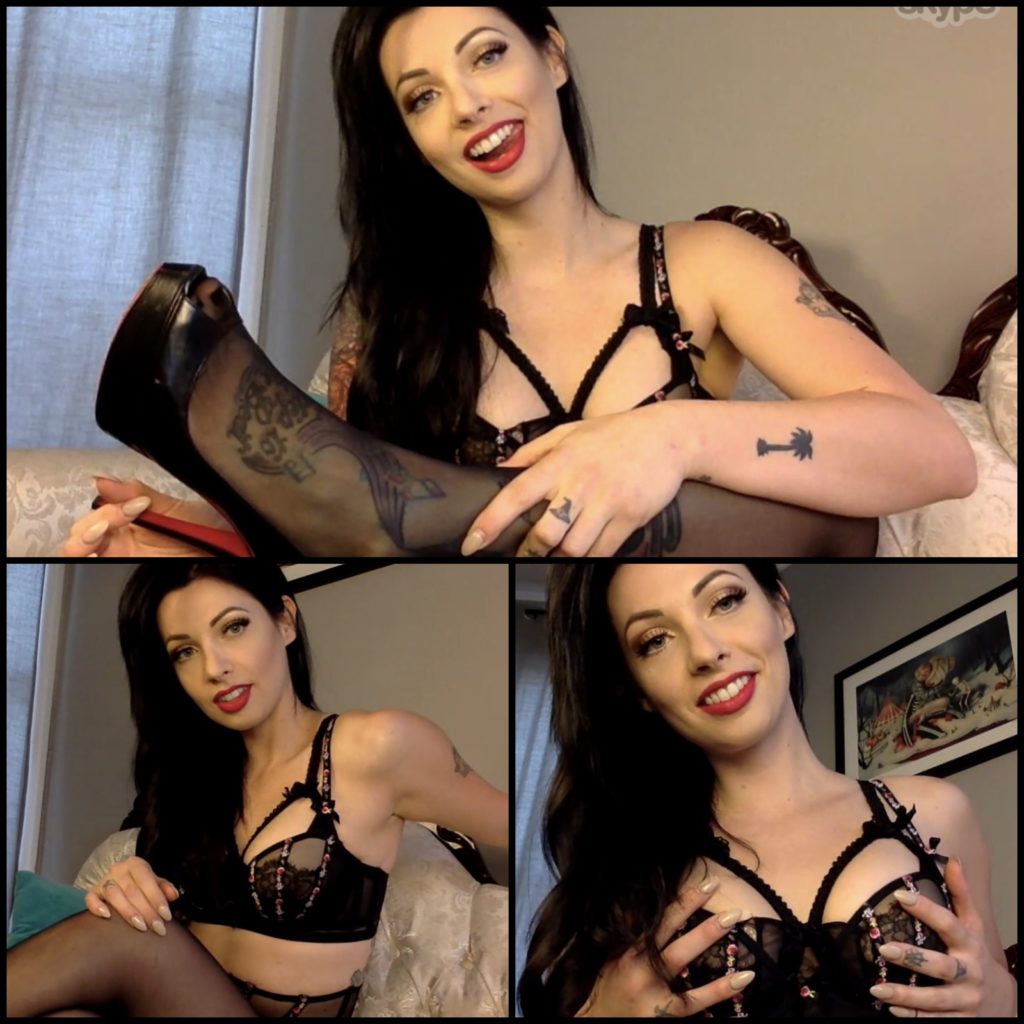 So where do you go from here, dear reader? Well, if you are unfamiliar with Domina Lynnette's work, I suggest visiting her clip stores and purchasing some of her amazing productions.  You will quickly see that her sensual style is utterly irresistible, and it will leave you aching for more, as it did for me.  From there, contact Domina Lynnette and make arrangements to kneel before her in a cam session and prepare yourself to surrender everything to her.  For me? Well, if I can ever make the arrangements, I will be dreaming of the chance to kneel before Domina Lynnette in person one day.  Chicago isn't that far away, right? And when she travels, perhaps I could too.  A slave can dream, but in my mind, I wonder if I could handle that kind of teasing and sensuality in person.  Given what Domina Lynnette was able to do to me via video session, it could be dangerous.  Then again, if it isn't dangerous, it isn't fun, right? Thank you again Domina for a memorable session that I was able to relive in writing this review.  You are everything I had hoped your would be and so much more.  I know my review is woefully inadequate in summarizing just how incredible our session was, but words can only do so much.  I'll have to leave it to those enticed by my experiences, and my words, to enjoy a session for themselves.  Perhaps they will do better than just "Wow!" when you finish toying with them, but I rather doubt it 😉

| | | |
| --- | --- | --- |
| | Score  /10 | Comments |
| Ease to arrange | 8 | Between Domina Lynnette's schedule and mine, it was difficult to arrange this session, but trust me when I say, it was worth every minute of the wait! |
| Cam connection & sound |  10 | Crystal clear sound and video ensured that every whispered command and tease, and every subtle temptation Domina threw my way found it's mark.  I was spellbound the entire session. |
| Appearance of Domme |  10 | Domina Lynnette is easily one of the most beautiful and desirable women you will ever lay eyes upon.  She is elegant and sensual, teasing and exquisite.  I was in awe of just how perfect she is. |
| Willingness to accept input |  10 | As we arranged the session, Domina took my input and wove it into an erotic fantasy experience like no other.  Every hot button was pushed over and over again until I was wrapped around her little finger. |
| Price | 10 | Very reasonable and not the least bit rushed.  She took her time and made sure I would never forget this experience! |
| Overall satisfaction with session |  10 | Her clips are erotic masterpieces, but nothing can compare to being one on one with the ultimate Seductress.  I loved every second of my session with the incomparable Domina Lynnette, and cannot wait to do it all again soon! |
Feed your growing addiction for Domina Lynnette by following these links: